Bridging the disconnect between science, policy and practice for African cities
How can the relationship and interactions between science, policy and practice be strengthened, in order to advance sustainable urban development? A new research agenda is needed, that understands the philosophical limits of existing scientific disciplines, institutional structures and urban practice.
Science systematically builds and organises knowledge, in the form of testable explanations and predictions about the universe. Policy is a system of guidelines to lead decision making and achieve rational outcomes. Urban practitioners work in urban areas and fulfil functional and practical needs to advance livelihoods within the urban space. Understanding the core areas of interface and limitations of each is fundamental to bridging the disconnect and strengthening the relationship between them.
Technological breakthroughs have historically paved the way for societal development. Scientific knowledge is the source of inspiration informing policy choices. But often the impact of monodisciplinary fields, especially in the natural sciences, is limited by the complexity and interrelatedness of societal issues. Challenges in scientific research are compounded by the departmentalised nature of national and subnational institutions responsible for integrating scientific evidence to advance social change.
Our default patterns of reasoning can limit our ability to see the complexity and connectedness of particular issues. In social science — where the boundaries of disciplinary research are less clear-cut and where social issues are seen as multifaceted — monodisciplinary or singular pathways of addressing interlinked issues are insufficient for tackling complex issues such as the climate crisis. Additionally, overreliance on scientific knowledge, with its embedded scientific logic, rigorous methods of inquiry and emphasis on verifiable facts, comes at the expense of what is deemed non-scientific knowledge, such as indigenous knowledge passed down through generations of practice.
In urban studies, translating scientific research into tangible societal outcomes has proven ineffective across African cities. There is an abundance of broadly unsustainable development programmes, grappling with the challenges of project scaling, integration, and transitioning from pilot projects into programmes with broader societal impact. Although researchers and funders acknowledge these challenges, the pace of reform to bridge the disconnect between science, policy and practice has been relatively slow. The success of approaches and strategies adopted by urban researchers to ensure research uptake is often short-lived.
A conceptual shift is needed, from doing "science for society" to doing "science with society". This implies research methods that enhance knowledge co-production, from project inception to implementation. Mapping out stakeholder interests and establishing effective engagement strategies across science, policy and practice domains must be central to unlocking knowledge exchange. This will allow expectations to be managed and key influencers to be identified, as well as the real winners and losers, who are impacted and influenced by the proposed development reforms.
"Better communication of scientific evidence is therefore critical for research uptake and integration. It strengthens the dialogue and collaboration required to work at all levels of the research spectrum and builds an understanding of the methods and values of communities engaged."
Deepening science-policy-practice interaction
Despite increased recognition of the need to ensure research uptake, mainly with the adoption of the New Urban Agenda III, local governments are still predominantly focused on a compartmentalised framing of urban issues. In many cases, the resulting interventions are not supported by science or place-based knowledge at the national and local levels. Insufficient uptake of scientific evidence is mainly related to the communication gap in the scientific, policy and practice domain. This is intensified by a lack of institutional structures and spaces for dialogue to facilitate the transfer and co-creation of knowledge.
The Covid-19 pandemic demonstrated the need for such structures, and for a more institutionalised role for science, to ensure that policy responses and solutions were supported by the latest and best available scientific knowledge, as well as place-based knowledge. Dealing with such a complex and multidimensional issue, with multiple drivers and potential impacts, also required a systems approach, engaging a wide range of actors beyond the scientific sphere.
Better communication of scientific evidence is therefore critical for research uptake and integration. It strengthens the dialogue and collaboration required to work at all levels of the research spectrum and builds an understanding of the methods and values of communities engaged. For example, role-playing in workshops can communicate urban challenges in experiential ways that make them more accessible to policymakers and social actors. In addition, dialogue platforms can unlock the wealth of scientific knowledge published in academic journals that is often beyond the reach of policymakers and local actors. Beyond the networking opportunity of these platforms (forums, festivals, conferences and workshops), they create an enabling environment to share knowledge and galvanise action for change in science, policy and practice.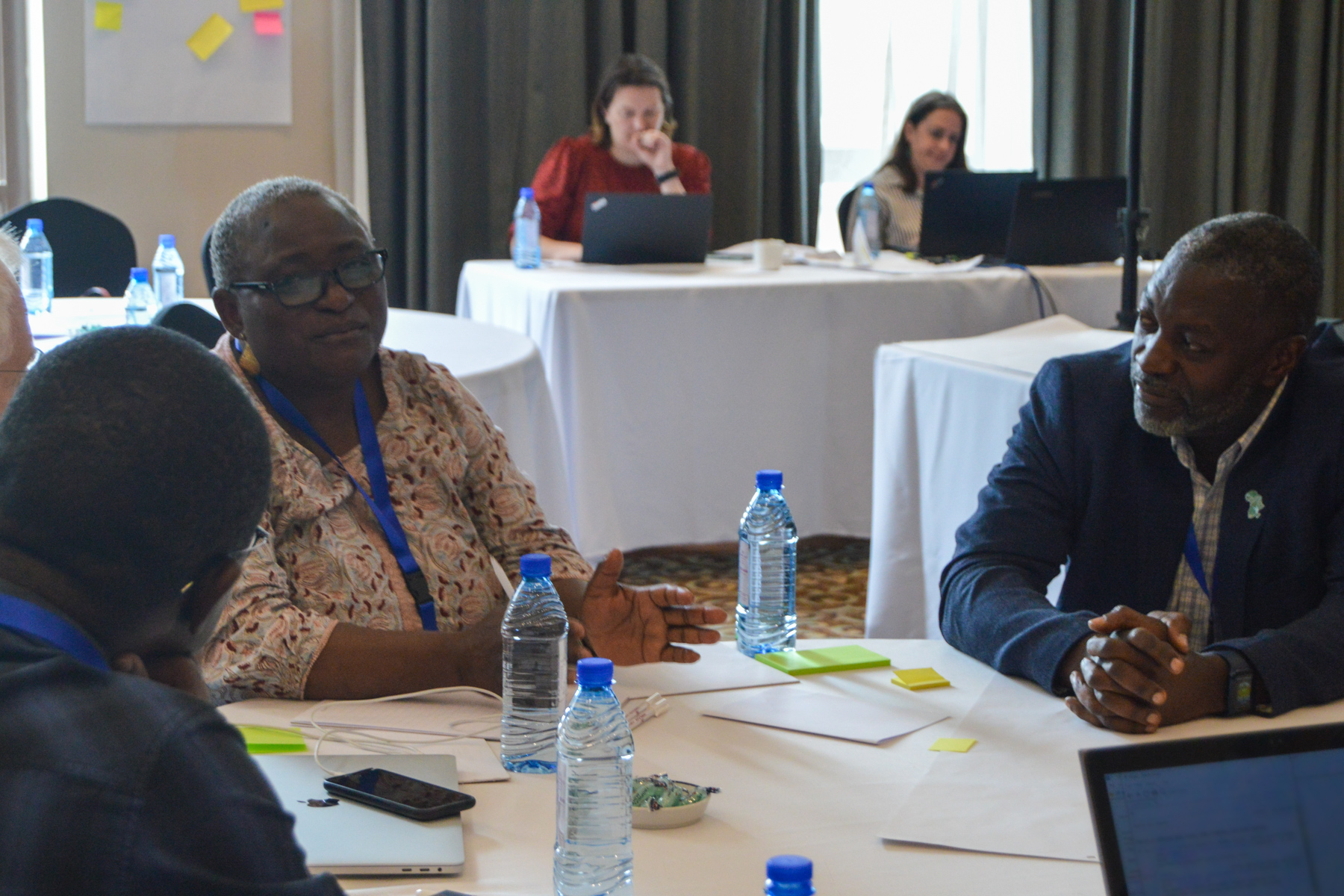 Beth Chitekwe-Biti and Shuaib Lwasa (pictured) participated in the RISE Africa Festival session on crafting sustainable development research that matters.
ICLEI Africa's RISE Africa Festival of urban innovations and practice, is a dialogue platform which showcases these important connections inherent in science, policy and practice. A movement of urban thinkers, doers and enablers committed to inspiring action for sustainable cities, RISE Africa breaks down the complexities of urban challenges and makes them accessible to a broader audience.
Since May 2020, the platform has facilitated monthly online activities, including showcases, roundtables and thematic webinars, to engage a growing community of over 1,400 scientists, policymakers, practitioners, citizens and city officials. The May 2022 edition of the Festival took the theme of Creativity, Agency and Urgency. It was organised around three core sessions and daily parallel sessions from a wide range of speakers, facilitators and hosts across the science, policy and practice spectrum.
One session delved directly into how we can craft sustainable development research that matters. Two speakers from either end of the knowledge system — researcher Professor Shuaib Lwasa and practitioner Dr Beth Chitekwe-Biti — were invited to advance the debate from a more reflective perspective.
Professor Lwasa underlined the need to consider the interests of local communities, including young people's aspirations, in conceptualising and designing research. He cited the inappropriate application of European housing standards to communities in informal settlements, and made the case for considering local innovations.
Dr Chitekwe-Biti stressed the importance of strong advocacy to connect with local communities, and for authorities to ensure a shared understanding of the importance of research, in order to co-create new ideas to improve the livelihoods of low-income households.
In order to facilitate interaction between science, policy and practice that catalyses meaningful sustainable development in African cities, and to ensure that we are producing research that matters, ICLEI Africa makes five key recommendations:
In cooperation with scientific, academic and research institutions, and community practitioners, subnational entities must establish multi-stakeholder knowledge-sharing platforms to unlearn entrenched biases and re-learn new forms of collaboration in addressing complex issues. These platforms will enable local urban stakeholders to access scientific knowledge and technological innovations and to learn from practical local solutions. Access to lessons learned, and best practices that are compatible with local conditions, governance and development contexts, is essential to ensure inclusion of local communities.
Enhance the capacity of local communities to interface between the science and policy spaces. This requires building skills and capacity to develop interactions and establish bridges between institutions and local actors, enabling more efficient and productive use of knowledge. Knowledge brokerage and synthesis can help to identify the necessary fit for the locality to support implementation and help co-produce knowledge with decision-makers and communities.
Local authorities and scientific communities should foster a new support function, in the form of "facilitators", in collaboration with local universities, research institutions and community practitioners. The facilitators could assist on-site stakeholders in discovering and sharing needs, raise awareness of problems, and facilitate access to information to support problem resolution. They could also disseminate good practices, success and failure stories and lessons learned from other locations. Their role could be formalised with long-term partnerships or multi-sector alliances.
Universities and research institutions should incentivise students and scientists by offering training opportunities for supporting on-site implementation, thus developing holistic thinking. Universities should promote systemic approaches, so that undergraduate students not only acquire knowledge and concepts but are also taught how to link these to lived realities.
Establish mechanisms at national, regional and international levels to create enabling environments for young scientists to play a central role in co-creating and sharing knowledge and to support evidence-based local practices to translate knowledge into action. Further, governments and international organisations should explore concrete means of support, including technical training, best practices promotion, and seed funding.
Header photo credit: Hannah van Rooyen. ACRC's consortium-wide meeting in Nairobi.
Note: This article presents the views of the author featured and does not necessarily represent the views of the African Cities Research Consortium as a whole.
The African Cities blog is licensed under Creative Commons Attribution-NonCommercial-NoDerivatives 4.0 International (CC BY-NC-ND 4.0), which means you are welcome to repost this content as long as you provide full credit and a link to this original post.