Knowledge co-production
ACRC's research approach integrates systems thinking with rigorous political analysis, based on strong collaborations with a diverse range of research partners. One key partner is Shack/Slum Dwellers International (SDI), "a network of community-based organisations of the urban poor, present in 32 countries and hundreds of cities and towns across Africa, Asia and Latin America".
This blog post focuses on how SDI's affiliates in Zimbabwe are working to generate new insights and approaches to tackle complex problems in Harare, as part of their work in ACRC. It delves into reflections on their work with academic institutions in knowledge generation and collaboration processes, and what this may mean for the broader consortium, as well as for Africa's rapidly changing cities.
You can also listen to our podcast interview with George Masimba and Teurai Nyamangara from Dialogue on Shelter, reflecting on their process of knowledge generation and collaboration within ACRC, below.
By Daniela Beltrame and Smith Ouma
Acknowledging tensions in knowledge co-production
Collaborations between academia and grassroots organisations are not without tensions and power imbalances. For urban low-income communities, engaging with academics may mean enduring disqualification of their knowledge. The current hegemonic order dictates that academic knowledge be the primary reference for expertise, rigour or accuracy. Academic institutions, particularly Western institutions, wield immense power to conceive what Musila refers to as "normative credibility". This means there is a strong likelihood that some knowledge systems will remain subjugated.
Systematic reflection and assessment are key to preventing or reverting this. ACRC's research approach integrates these notions to build strong, horizontal collaborations with a diverse range of research partners. Among these partnerships, collaborating with Slum Dwellers International (SDI) means engaging a network of community-based organisations present in 32 countries and hundreds of cities and towns across Africa, Asia and Latin America.
We focus here on SDI's affiliates in Zimbabwe (the Zimbabwe Homeless People's Federation and its support NGO, Dialogue on Shelter), and their work in Harare. Through understanding their approach to working with academic institutions, and particularly their knowledge generation strategies and collaboration process within ACRC, we hope to understand what drives their practice, and highlight potential avenues for the broader consortium.
A long history of collaboration
The Zimbabwe Homeless People's Federation (the Federation), is a network of community savings groups created in the late 1990s, with membership now standing at 46,900 members. Dialogue on Shelter (Dialogue) is the Federation's professional support organisation (PSO). Dialogue and the Federation have a lengthy history of partnerships with academia. They acknowledge that academic knowledge can be significant in defining problems and solutions.
According to George Masimba, director of programmes at Dialogue, "collaborations with academic institutions help strengthen our data collection processes, but more importantly, also legitimise data that is collected by communities". Dialogue has, for instance, been working with the University of Zimbabwe in Harare and with other universities in Zimbabwe's secondary cities. The collaborations are guided by the memorandums of understanding (MOU) between Dialogue and the universities and academics with whom they partner. Through these MOUs, they are able to collaboratively define the terms of engagement, as well as lay a foundation upon which to navigate power imbalances at play.
Academics have also increasingly acknowledged the relevance and power of grassroots organisations like the Zimbabwe Federation and Dialogue as legitimate epistemological arenas. Universities have opened up formal academic spaces where slum dwellers are engaging, as teachers and lecturers of their own lived experience. An example is the partnership between SDI affiliates and the Global Development Institute at The University of Manchester in which the affiliates co-deliver a Master's class in citizen-led development. This course unit was co-developed with the SDI Alliance in Zimbabwe, bringing community leaders from South Africa, Kenya and Uganda to deliver teaching to students at The University of Manchester. For George Masimba, bringing universities into terrains they are not used to is "also a way of addressing the power asymmetry that normally comes with these collaborations".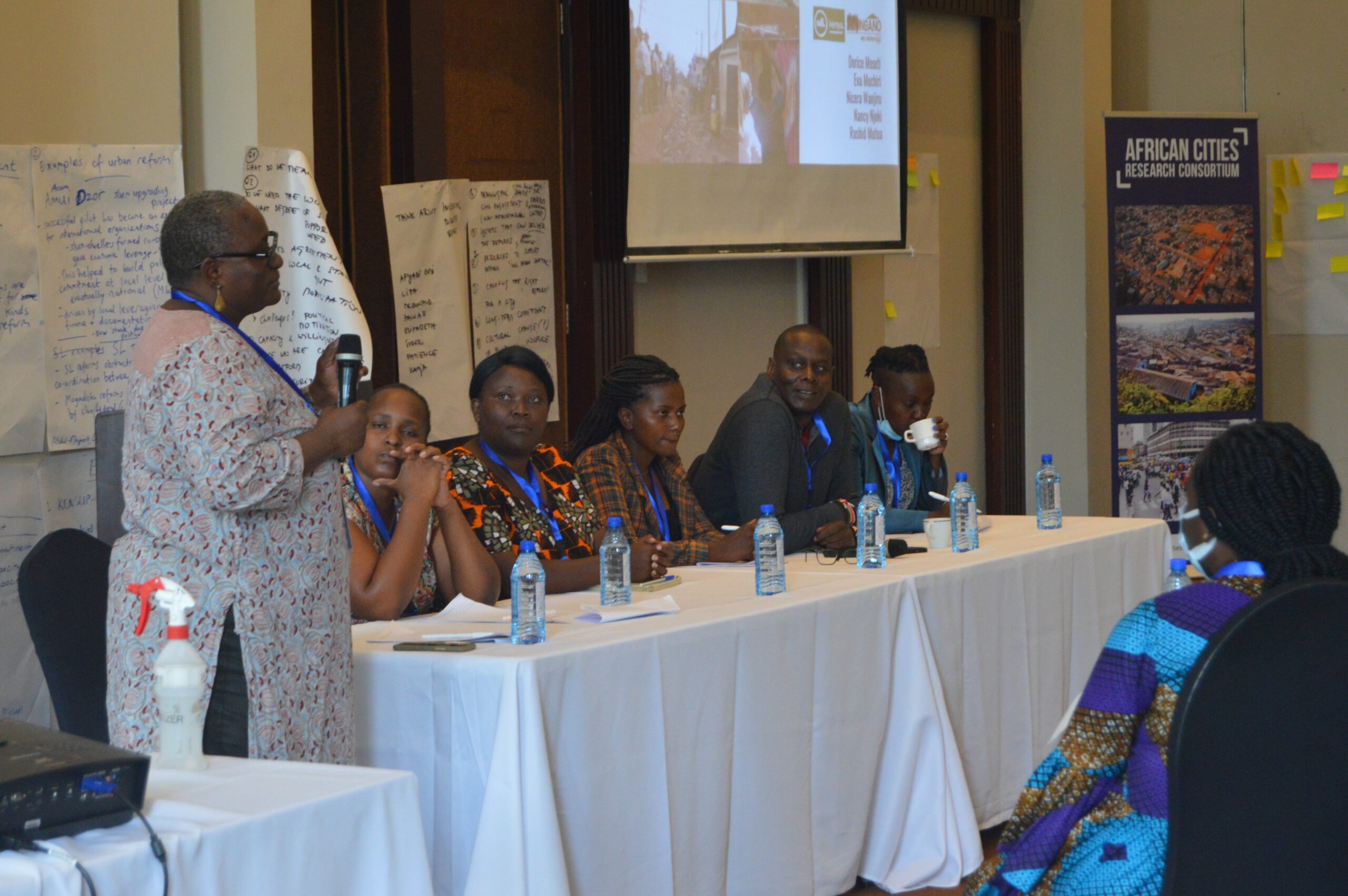 Community knowledge was high on the agenda at ACRC's consortium-wide meeting in Nairobi. Here, Beth Chitekwe-Biti moderates a panel discussion with community leaders from Muungano wa Wanavijiji, the SDI-affiliated Kenyan federation of slum dwellers. Photo credit: Hannah van Rooyen
Rooted in the movement
This theory of practice is clearly grounded in the ritualised practices of the broader SDI movement. Hence, for George Masimba, Dialogue's work "is informed by our affiliation with SDI". The model presented by SDI includes a series of "practices for change" that the movement calls "rituals". These rituals, which include data collection, sharing learning experiences and methodologies, and supporting each other through horizontal exchanges, are the basis upon which marginalised urban communities produce knowledge and shape their city.
Concerned with creating space for the voice, action and particularly leadership of those historically marginalised, they contest the hegemonic narrow conception that slum dwellers are unable to produce knowledge, organise or lead because of their condition. Moreover, SDI's work challenges the notion that slums or shacks and their dwellers constitute a sort of problem, and that it is mainly the task of academics or professionals to somehow solve this problem.
As George Masimba puts it, "data collection is our way of empowering slum communities, in terms of enabling them to transform their communities through that data. So the data is collected and then used to organise communities and also to engage decisionmakers".
The movement is intentional in creating alternative city-making epistemologies and practice, revealing the value of difference for the crafting of alternative urban futures.
There is a conscious effort for historically marginalised populations to take centre stage, rather than have their voices mediated by NGOs. In fact, the NGO that accompanies the work of each Federation is referred to as a "professional support organisation" (PSO), in constant reminder of its place. This presents a clear distinction with the assistance-based, paternalistic attitude that external NGOs generally reproduce, which hinders communities' potential to define research questions, select priorities or allocate resources. 
Knowledge produced by (diverse) communities
The Federation produces knowledge on local conditions, based on data it has generated. Its members, supported by their PSO, decide what issues are relevant, what knowledge registers are credible, and what information from these registers is important to address the identified issues. Crucially, this ensures that locally generated evidence is used to define priority areas in need of action and the relevant interventions to address the identified priorities.
Within ACRC, Dialogue and the Federation are leading the Harare city team in the informal settlements domain. George Masimba describes their process:
"Our first step was to put together a team composed of both the professionals from the NGO side and communities from the Federation groups. Why? Because … communities have been conducting surveys in these settlements for many years, so we feel that they should … be part of the research team. We thought that was one way of ensuring that communities can influence the way in which we are going to be carrying out the work here in Harare … it would have been weird for us to exclude them if we are serious about the carrying out research process that seeks to transform these communities. So we set up a small team of about eight people … Then after that, we developed the preliminary research tools, informed by the ACRC concept note. We did a process together with these communities where, based on these themes, we developed questions that we thought would be useful as research questions under this domain."
While slum dwellers themselves are the drivers of the agenda, it is key to understand that the role of the PSO is not without contradiction. For instance, George Masimba openly acknowledges the need for further reflection about power imbalances within the affiliate's own teams:
"If we are serious about having an approach that is conscious of the power imbalances, no matter in what form they can come, I think we ought to reflect a bit more in terms of power issues within the teams themselves."
This also means reckoning with the diversity of voices within the teams and acknowledging that the communities themselves are not necessarily homogeneous. Furthermore, disciplined self-reflection is key to ensure that certain voices, like that of the youth, are amplified rather than going unheard.
Towards "better" knowledge co-production
By decentring academic conventionalities and affirming their local epistemological registers, Dialogue on Shelter reminds us of the multiple modes of knowing and their status as credible knowledge producers. In spite of tensions, the epistemology and practices that emanate from the SDI processes present valuable alternative forms of knowledge co-production that "by far exceed the North Atlantic understanding of the world".
These practices also reaffirm the idea that learning is bidirectional, which co-production endeavours must acknowledge.
Header photo credit: Hannah van Rooyen. ACRC workshop in Nairobi, Kenya.
Note: This article presents the views of the author featured and does not necessarily represent the views of the African Cities Research Consortium as a whole.
The African Cities blog is licensed under Creative Commons Attribution-NonCommercial-NoDerivatives 4.0 International (CC BY-NC-ND 4.0), which means you are welcome to repost this content as long as you provide full credit and a link to this original post.