Whitney Banyai-Becker (GDI), Charity Mwangi (SDI Kenya) and Jane Wairutu (SDI Kenya) explain how Muungano's work with the Kenyan Ministry of Health is helping to find data-driven solutions to Covid-19 that are appropriate in informal settlements.
Muungano wa Wanavijiji learned long ago that data in the hands of the community is a powerful tool. For over two decades the Muungano Alliance (comprising Muungano wa Wanavijiji, SDI Kenya and Akiba Mashinani Trust) has worked to build community data collection skills in settlement profiling, mapping and enumeration.
These practices have always been central to Muungano's activism and community support, but perhaps no one could have guessed how vital they would become this year in response to the Covid-19 outbreak.
Informal settlements in Kenya and elsewhere are characterised by high residential density, income insecurity, the prevalence of high-risk occupations, and inadequate health services – so Covid-19 poses particular hardships for people living in informal settlements (as elaborated here). The Covid-19 Home Based Isolation and Care (HBIC) guidelines provided to citizens by the Kenyan Ministry of Health (MOH) are also not realistic in informal settlements, given for example the spatial and economic pressures on their residents. In addition, governments often lack the information about the human and physical aspects of informal settlements that is needed to plan an adequate response.
These dynamics make a data-driven response to the pandemic all the more important to protect the most vulnerable from disproportionate rates of illness and death. Recognising the usefulness of its long history of data collection within informal settlements, the Muungano Alliance was therefore asked to join the national MOH Covid-19 Taskforce; working within the Taskforce to identify solutions for Covid-19 prevention, treatment and care that are appropriate in informal settlements.
Muungano's previous work set the scene for the Ministry of Health collaboration
Over the last 25 years, Muungano wa Wanavijiji has trained countless community members to collect timely, accurate and reflective data about informal settlements in towns and cities in Kenya and beyond, mapping over 150 informal settlements across Kenya. Information has been collected about population demographics, household information, facilities like school and health centres, utilities (eg water points, electricity) and existing infrastructure like roads and drains.
In August 2017, Mukuru, a huge informal settlement in Nairobi, was declared a Special Planning Area (SPA) by the county government of Nairobi, and the ensuing Mukuru SPA process led the Muungano Alliance into various collaborations with government departments, higher learning institutions, NGOs, communities and other stakeholders. The Mukuru SPA Health Consortium worked extensively with Nairobi County's Department of Health to document the quality and level of healthcare provision available to Mukuru's 300,000 residents. Muungano, with support from ARISE, mapped the prevalence of different levels of health facilities in Mukuru, from hospitals and health centres to Community Health Volunteers (CHVs), and in this way documented which households and neighbourhoods in Mukuru had adequate healthcare coverage, and which did not. The level of detail and strength of data collection and reporting was recognised: when Covid-19 struck, the Department of Health recommended that Muungano be involved in the national response.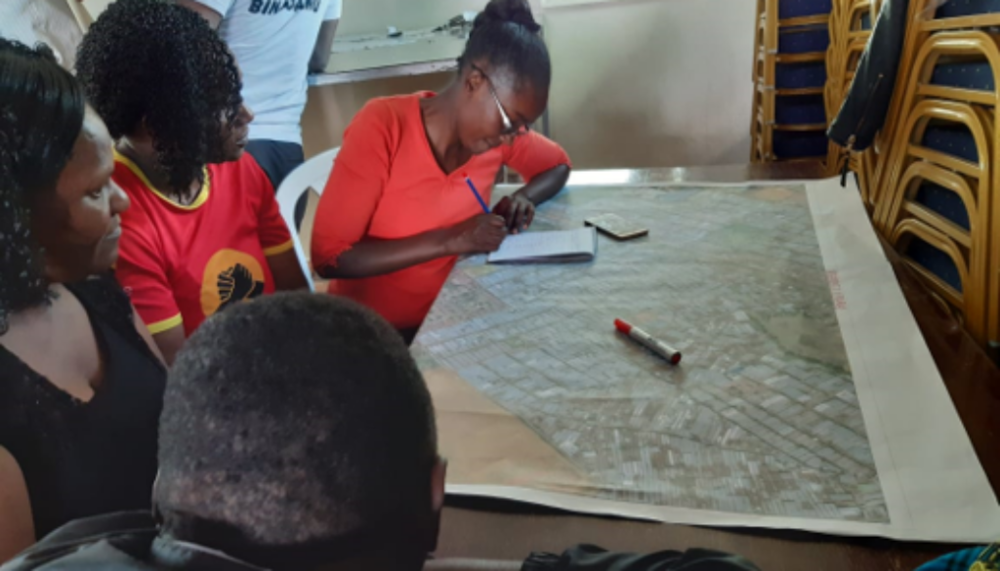 Mapping community health services as part of the Mukuru SPA planning. Photo: Muungano KYC.TV
A community-based network supporting the national Covid-19 response
Early on in Kenya's response, President Kenyatta formed the National Covid-19 Taskforce, to be led by the Ministry of Health, operating as a collaboration across key government departments and NGOs working to coordinate responses. The Muungano Alliance was asked to represent the interests of people living in informal settlements, including a focus on youth. One of Muungano's strengths on the Taskforce is its data collection and mapping expertise, supporting the Taskforce to make evidence-driven decisions by using existing data that had previously been collected and also new Covid-19 data collected by Muungano in real-time as the virus spread throughout the country.
Muungano routinely collects profiling data on all informal settlements in Nairobi. These profiles have been used extensively by the Taskforce to identify the number of informal settlements in Nairobi and determine the extent of communities' need for personal protective equipment (PPE) and CHVs. The Muungano Alliance's mapping of CHVs for the Mukuru SPA showed where there were deficits in CHV coverage and the total number of CHVs in Mukuru. This was then used as a case study to demonstrate to the Taskforce that informal settlements are underserved by CHVs. In response, the MOH has recruited more CHVs for informal settlements and offered them additional Covid-19 training.
Muungano also mobilized community members across the country to collect and report on Covid-19 data in real-time throughout the pandemic. This process has involved a network of community mobilisers using a carefully designed online monitoring and evaluation tool. Throughout May and June, the Muungano Alliance reported (to the MOH and in the public domain) every 2-3 days on the situation in 10 informal settlements across three Kenyan counties. The reports summarised data about Covid-19 prevalence, testing, spread, prevention measures, basic needs support, and information/awareness-raising efforts in each settlement.
As part of its own Covid-19 response, Muungano provided handwashing stations, soap and masks to settlement communities in the counties of Nairobi, Machakos, Kisumu and Nakuru, and distributed PPE to CHVs in various Nairobi settlements. The federation has also been involved in providing civic education about Covid-19 to underserved communities, by creating and distributing educational fliers and posters with information about Covid-19 symptoms, prevention and care. The MOH's public information was primarily in English and not widely available, especially in settlements, so Muungano translated its posters into Swahili and distributed widely throughout their community networks.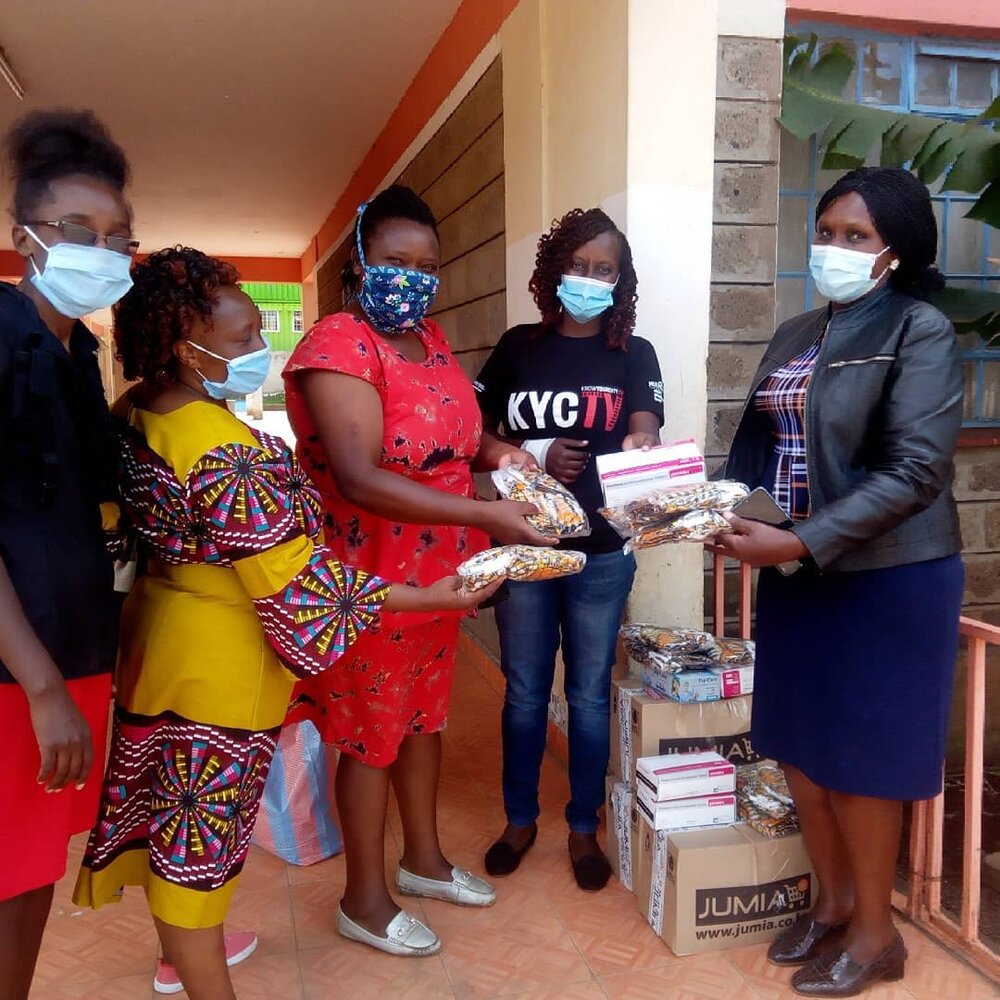 Muungano representatives distributing personal protective equipment to community health volunteers in Nairobi. Photo: Muungano KYC.TV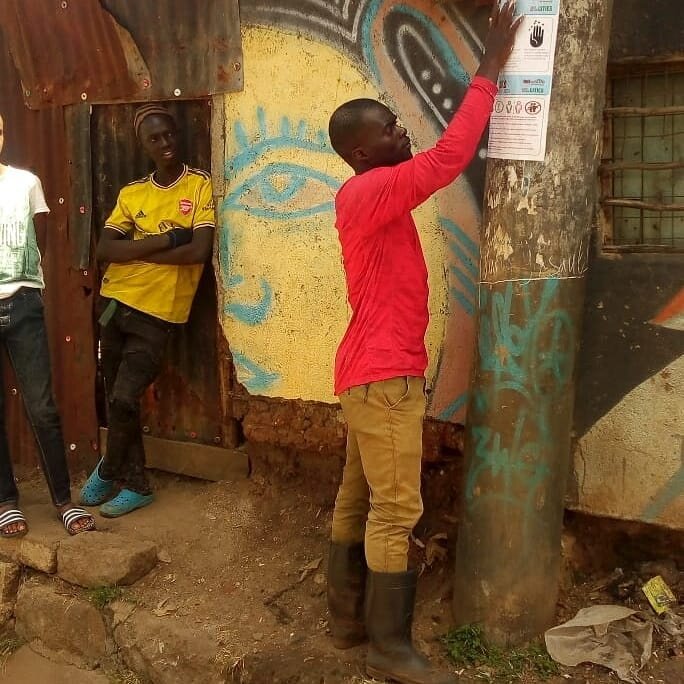 Youth in Korogocho informal settlement, Nairobi, put up public health posters in their neighbourhood. Photo: Muungano KYC.TV
Isolation centres: doing the groundwork for innovative Covid-19 prevention and healthcare responses
Given the very different spatial characteristics of informal settlements compared to formal residential and commercial areas, eg higher densities and much smaller household dwellings, the Muungano Alliance quickly realised that alternatives to the existing prevention and care guidelines would be needed if measures were to be implemented successfully in informal settlements. Early in the pandemic, information collected from community members through the online monitoring and evaluation tool revealed that for most informal settlement residents there are few, if any, nearby health centres where they could access Covid-19 testing and treatment. There was also much discussion in the federation about stigma and fear around receiving Covid-19 treatment in health facilities far from their communities.
In response to all these concerns, and using its existing settlement profile data, the Muungano Alliance therefore began mapping facilities within informal settlements that could potentially be used as community isolation centres. An existing school, church hall or health centre in an informal settlement could be temporarily transformed to a community care point for anyone experiencing Covid-19 symptoms to use so they could self-isolate or quarantine. Such isolation centres allow people to self-isolate safely and effectively away from other family members, while remaining within their wider communities.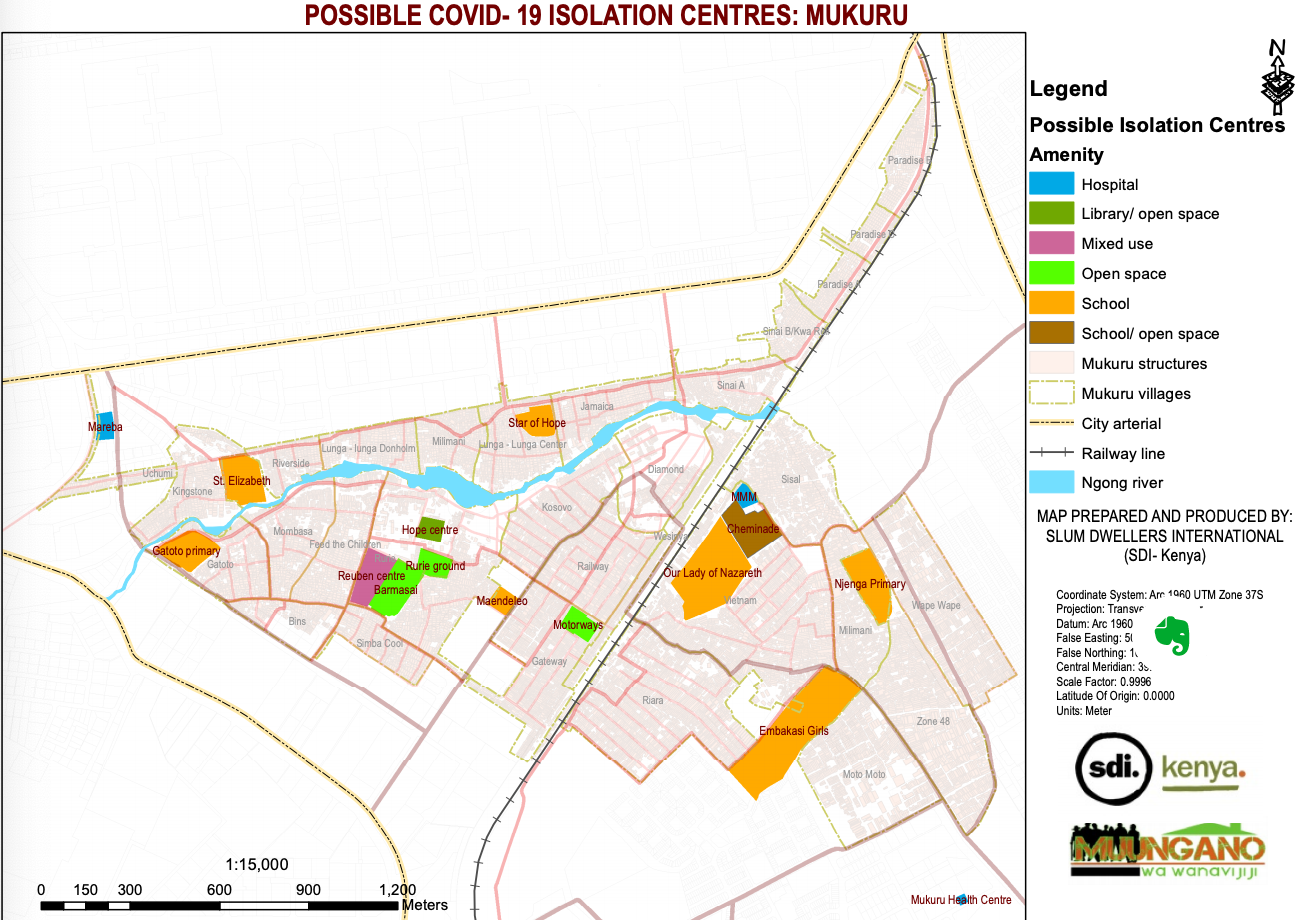 One mapping showing proposed locations of covid-19 isolation centres in the informal settlement of Mukuru, Nairobi. Mukuru is home to around 100,000 households. Source: SDI Kenya
To date, the Muungano Alliance has identified possible locations for isolation centres in six informal settlements in Nairobi County, nine informal settlements in Kisumu County, and in two sub-counties in Mombasa County. In collaboration with the national Taskforce, the Muungano Alliance is also working to develop realistic guidelines on how to implement isolation centres. Once established, the centres will play a critical role in supporting residents of informal settlements across Kenya to respond safely and effectively to Covid-19.
SDI is a core partner of the African Cities Research Consortium. Find out more here.
This post originally appeared on the Global Development Institute Blog.
Note: This article presents the views of the author featured and does not necessarily represent the views of the African Cities Research Consortium as a whole.
The African Cities blog is licensed under Creative Commons Attribution-NonCommercial-NoDerivatives 4.0 International (CC BY-NC-ND 4.0), which means you are welcome to repost this content as long as you provide full credit and a link to this original post.