Unpacking the ACRC approach
This is the first in a series of blog posts exploring the African Cities Research Consortium's conceptual framework. Building on our first working paper, our research directors delve deeper into the urban development challenges we are seeking to address, our research approach and the concepts we'll be using.
This first article explores the key challenges facing African cities and opportunities for development.
By Diana Mitlin, CEO of the African Cities Research Consortium
All cities are complex, dynamic, political systems. But with a fast-growing, young urban population, Africa's cities in particular present a whole host of unique and critical challenges.
The African Cities Research Consortium is seeking to address these challenges by bringing together community organisations, local government and agencies, along with other kinds of urban reformers. Our goal is both to co-produce knowledge and evidence, and to turn this into meaningful action.
Why African cities?
Many African cities are at a crossroads. Economic growth in sub-Saharan Africa – at the national level – has improved over the last 20 years, with an annual average of 4.9% (compared to 2.8% for the rest of the world). But that growth has been too dependent on the extraction of natural resources. Increasing growth may have led to more opportunities for some; and has increased the potential to reduce poverty.
Yet livelihoods remain precarious for many people and there are few opportunities to secure better development options – especially those in low-income households in informal urban settlements. As urbanisation has grown without significant structural transformation, it has failed to lay the foundations for future prosperity in many countries.
To compound these difficulties, the Covid-19 crisis is having a disproportionate effect on urban areas. Economic activity in sub-Saharan Africa is estimated to have contracted by almost 2% in 2020, while the IMF estimates that per capita income will not return to pre-crisis levels until 2025. And Covid-19 has highlighted a reality that has been known for a long time. Over 50% of Africa's urban population live in informal settlements without access to the basic services (piped water, safe sanitation, health centres) that higher-income households take for granted.
Policymakers increasingly recognise the need to address conditions in overcrowded, low-income urban neighbourhoods. These areas have faced a "double whammy", with both acute health needs (including poor access to essential services and an inability to socially distance) and an economic crisis (with no savings, daily wages and a preponderance of employment in the service sector).
Pressure for change is pervasive across Africa's cities. While frustrated residents need services, homes and better employment options, entrepreneurs' efforts to contribute to economic growth are stymied, civil society agencies seek more inclusive development approaches, and aspiring politicians think they could do better.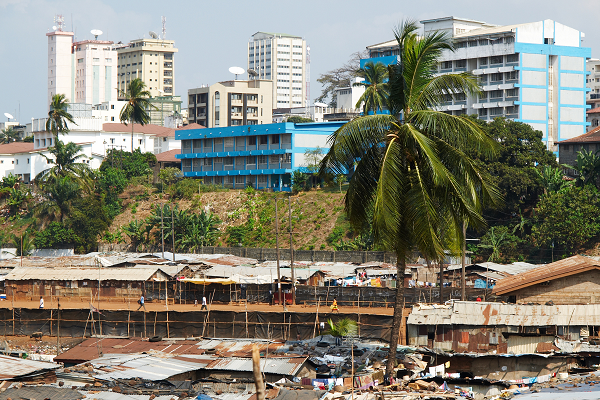 Kroo Bay informal settlement in Freetown, Sierra Leone. Over 50% of Africa's urban population live in informal settlements without access to the basic services (piped water, safe sanitation, health centres) that higher-income households take for granted. Photo credit: Abenaa / Getty Images
Urban reform challenges
Over the last decade, international, national and local policy actors have increasingly recognised the challenges raised by growing urbanisation in Africa. But for most city residents, progress has been minimal. Interventions often fail to address core challenges of economic development, social exclusion, city governance and poverty reduction in ways that are responsive to climate change and biodiversity loss.
Despite some efforts to adopt multi-sectoral approaches to urban governance and development in Africa, too many programmes remain siloed. They fail to deal either with the complexity of urban development problems, or the unintended consequences that one improvement project may have on closely related systems and livelihoods.
International development agencies have so far had a relatively insignificant role in shaping and financing interventions within African cities. Many northern NGOs also have limited experience with urban projects and lack the capacity to conduct major infrastructure projects.
Despite the growing traction of the "thinking and working politically" agenda, official development assistance actors have yet to systematically apply insights from this approach to urban programming. With a few exceptions, donor assistance remains predominantly technocratic. Although civil society efforts have been more grounded in political economy analysis, relatively short project timescales reduce their capacity to navigate the intrinsically political dimensions of urban reform.
The potential of reform coalitions
Growing evidence shows that some of the most complex and politically intractable problems in African cities are more likely to be addressed effectively when guided by reform-based coalitions. These coalitions operate across public-private divides, incorporating interests, ideas and actors from the low-income communities and groups most directly affected.
While some of their work may be conducted through formalised networks, it necessarily has a less formal component, presenting challenges around scaling up and sustaining responses over time. Development actors are often resistant to engaging with such approaches – perhaps due to a perception they are too time-consuming and/or "political", along with a reluctance to involve low-income communities in developing solutions to complex problems.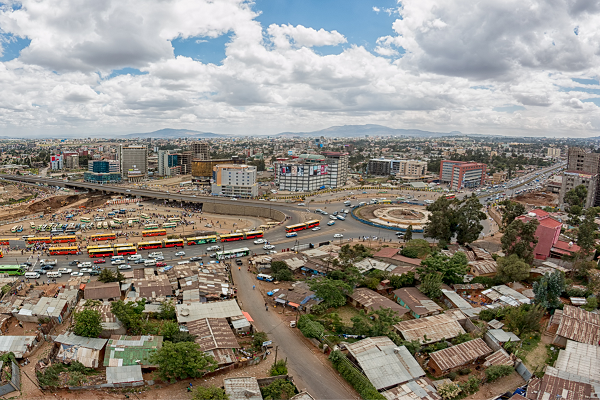 Aerial view over Addis Ababa, Ethiopia, showing densely packed houses at the edge of a busy road. Photo credit: derejeb / Getty Images
Finding effective, politically feasible solutions
Urban transformation is realised through deeply political processes – involving the changing balance of power between different social groups and how this shapes, and is shaped by, the distribution of benefits and ideological struggles.
In our research, we will analyse the drivers of complex urban challenges through a political economy approach, examining how multiple sectors and systems combine to produce complex, intertwined and apparently intractable problems. We will engage with multiple policy actors, to identify and implement more effective and politically feasible solutions to these problems.
We have recently published 'Politics, systems and domains: A conceptual framework for the African Cities Research Consortium'. Over the next few weeks, we will continue this blog series, unpacking how the different conceptual elements fit together – and how we'll use this research approach to assist the reform efforts of urban actors in our 13 focus cities.
In the next blog, Sam Hickey will outline the key concepts of our research approach. 
Learn more about ACRC's research approach in our working paper: 'Politics, systems and domains: A conceptual framework for the African Cities Research Consortium'.
Header photo credit: Moiz Husein / Getty Images. Aerial view of Dar es Salaam, Tanzania.