By Bernadatte Bainomugisha, Judith Mbabazi, Peter Kasaija and Hakimu Sseviiri
ACRC's Kampala team held its final uptake workshop at Hotel Africana on 7 September 2023, bringing together policymakers, practitioners and researchers to explore key findings and forge a path to inclusive urban reform strategies.
Anchored by the theme of "working together for urban progress" and beginning with a brief introduction to the ACRC programme, the workshop was split into two sessions. In the first session, discussions were focused around research findings from across the urban development domains being studied in Kampala: informal settlements, land and connectivity, health, wellbeing and nutrition, and youth and capability development. Key findings from political settlements and city of systems analyses also helped to illuminate critical insights from the different research domains.
Domain discussions
In this first session, the domain researchers were stationed on four tables, with participants – including community representatives, practitioners and policymakers – able to visit each table and discuss the key domain findings with them.
These domain research discussions revealed three main takeaways:
Young people remain largely excluded from decisionmaking processes

, which has perpetuated a cycle of vulnerability and exploitation for this group.

Disadvantaged urban communities cannot adequately meet their dietary needs

– an often overlooked aspect of deprivation which has a knock-on effect on their productivity and willingness to participate in decisionmaking processes.

Multistakeholder engagement is critical for any kind of transformative change to be initiated in Kampala

– for example, around unlocking land assets, slum upgrading, improving service provision or addressing persistent system failures. Understanding the multiple interests that underpin the highly complex urban political dynamics between different actors is key, and requires engaging with those operating at the local and city level and up to the powerful elites at the national level.
Emerging priorities
The interactive morning session set the foundation for the afternoon, which comprised an in-depth debate about potential strategic interventions for responding to the priority challenges that had emerged from the research. Researchers, policymakers and community representatives had an opportunity to discuss and critique the findings of the ACRC research – more specifically the proposed priority complex problem (PCP) interventions, derived from the four ACRC domain studies.
These proposals reflected the priority problems and potential scalable interventions to address them, as identified by local communities. If implemented, these interventions could act as import triggers for mobilising local communities, facilitating collaborative working and harnessing coalitions between different actors and political elites, towards scaling up transformative action for a more inclusive and just city.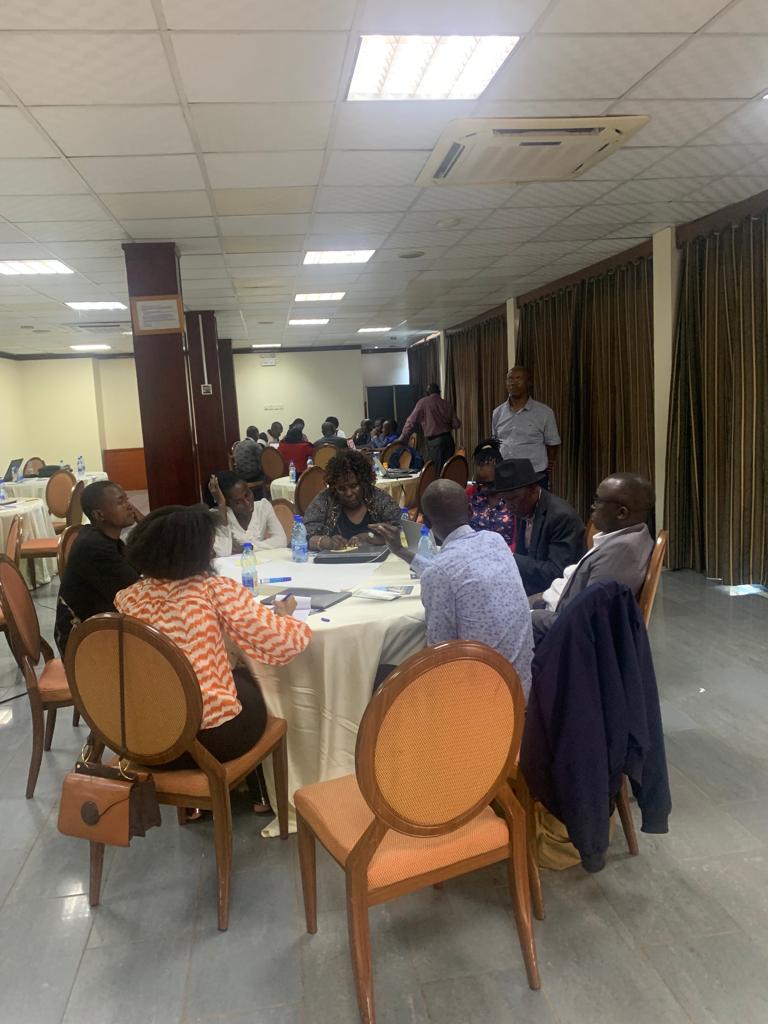 Workshop participants discussing ACRC research findings
Building on the morning session, the collective findings of the research teams highlighted that many challenges facing Kampala are multifaceted and very complex. Potential solutions cut across sectors, actor interests and scale of necessary investments, meaning that no single "blueprint" or "one-size-fits-all" solution to these challenges exists. Lessons learned from past interventions, which have had varying degrees of success and failure, further support this. Rather, individual challenges require unique approaches that are not only tailored to the specific nuances of the problem, but that are, crucially, grounded in local knowledge, ideas and experiences. Co-producing solutions is the cornerstone of working towards genuinely inclusive and transformative urban change, especially for the most vulnerable and disadvantaged groups.
Developing strategic interventions
Built on ACRC's four pillars of collaboration, evidence, innovation and progress, the Kampala research teams delved into what were considered to be potentially strategic interventions towards improving the welfare of disadvantaged urban communities. Two holistic but targeted and site-specific interventions were proposed, based on the complex challenges that emerged from the consolidated domain findings. Anchored within the informal settlements domain, the interventions reflected some of the most pertinent issues that came out of the cross-domain research and were proposed to be implemented specifically in Kisenyi and Ggaba informal settlements.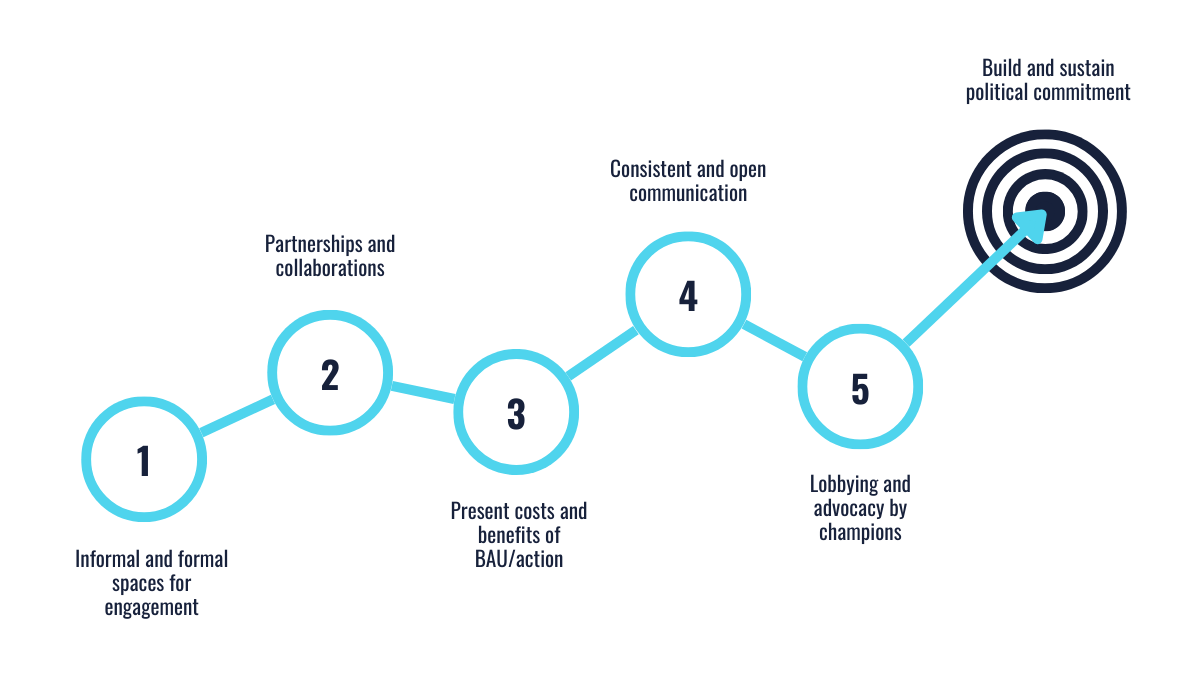 Modalities of proposed interventions in line with ACRC's theory of change
The first intervention, titled the Kawenja Plastic Waste Entrepreneurship and Innovation Hub, was proposed for Kisenyi. This would require seed funding to revitalise and scale up an already existing, locally led plastic initiative for flood control and youth livelihood enhancement, as well as to trigger a stalled slum upgrading initiative in Kisenyi III.
The second proposed intervention focused on Ggaba market, which also acts as a source of livelihood for poor residents of the nearby Katoogo informal settlement. This intervention focused on implementing a complementary set of sanitation technologies and food safety mechanisms, including the improvement of existing toilets as well as introducing a sludge transfer tank, gulper pumps and three-wheeler vehicles at Ggaba market to improve hygiene and sanitation standards for women food vendors.
It was emphasised that successful implementation of these proposed interventions would hinge on four critical aspects:
1. Mobilising local communities and leveraging existing actor coalitions (community and coalitions).
2. Engaging the local–elite actor politics underpinning the critical systems involved, to generate long-term commitment and enhance local capacities (commitment and capacity).
3. Undertaking action research to inform strategy (research and diagnostics).
4. Pairing investments with advocacy for policy review (action and advocacy).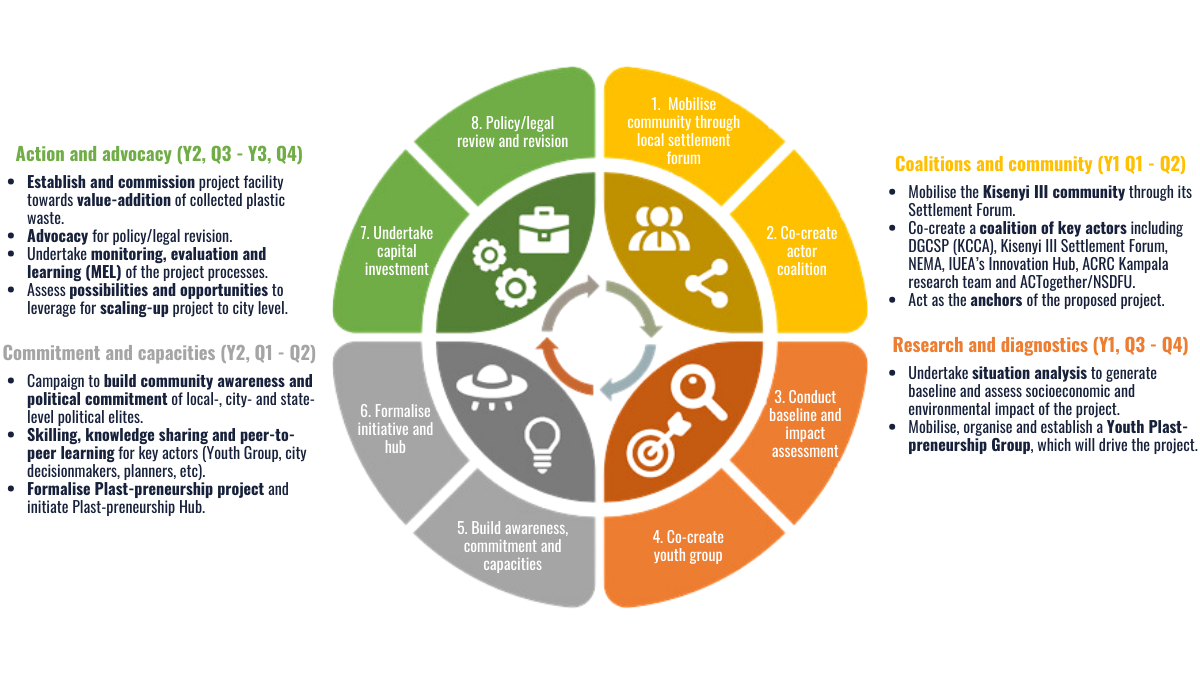 Key elements for the implementation of one of the proposed PCP interventions for Kampala
Final reflections and takeaways
Three key lessons were highlighted by the ACRC Kampala uptake workshop:
1. The importance of targeted research, learning and sharing to foster inclusive and transformative urban change. If policymakers, local communities and other development actors within the broader urban domain commit to creating spaces for such learning, they could contribute towards a more impactful development pathway for more equitable urban development in Kampala.
2. Urban politics, from the local through to the city and national level, is a critical driver of pervasive exploitation, exclusion and many other outstanding challenges facing Kampala and its residents.
3. A reconfiguration of development interventions is needed to address pervasive urban challenges like inequality and poverty. Adopting a systems approach is key to this, with the interlinked nature of urban challenges meaning that isolated interventions only perpetuate existing fragmentation and dysfunction, increasing the vulnerability of those with limited means or voice in cities such as Kampala.
The opportunity to share experiences and co-produce knowledge yielded in-depth insights about the everyday challenges facing disadvantaged urban communities in Kampala. Such evidence-driven collaboration is pivotal to shaping the future of African cities and enhancing the wellbeing of urban citizens – particularly marginalised and vulnerable groups.
We are grateful to the ACRC team in Kampala, along with key partners and stakeholders, including but not limited to, KCCA, National Slum Dwellers Association (NSDA), ACTogether Uganda, the Urban Action Lab (UAL), Makerere University and The University of Manchester for enabling and contributing to a successful workshop.
Photo credits: All photos taken by Peter Kasaija. Header image shows workshop participants discussing the ACRC research findings on informal settlements.
Note: This article presents the views of the author featured and does not necessarily represent the views of the African Cities Research Consortium as a whole.
The African Cities blog is licensed under Creative Commons Attribution-NonCommercial-NoDerivatives 4.0 International (CC BY-NC-ND 4.0), which means you are welcome to repost this content as long as you provide full credit and a link to this original post.