Eight postdoctoral research fellows joined ACRC in early 2022, based at The University of Manchester's Global Development Institute. As well as working on their own research, the postdocs are providing vital support across our eight urban development domains, with mentoring from dedicated members of our research team.
Here, Abdifatah Tahir talks about his professional and research background, his work on urban land conflicts in Mogadishu, and why he sees critical infrastructures and management regimes as key to improving urban development in African cities.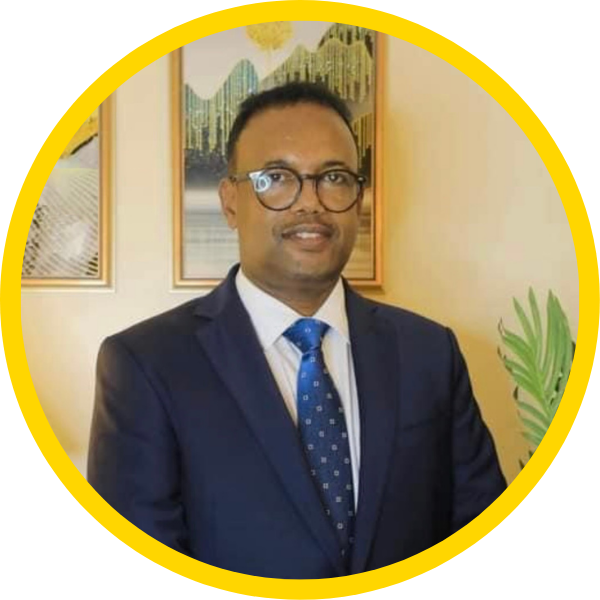 Tell us a bit about your background…
My name is Abdifatah Ismael Tahir, and I am a research fellow at the Global Development Institute, working on the exciting African Cities Research Consortium (ACRC). In my most recent work, I served as a member of Somalia's federal parliament, where I chaired the committee for roads, ports, airports, energy and transport.
Before this, I worked as a researcher, consultant and development practitioner for various organisations in Somalia, UK and South Africa. I hold a PhD in geography (urban governance) from the University of Sussex and a master's degree in transport planning from the University of Leeds.
How would you explain your research to a friend or family member?
Generally, my work is geared towards understanding the key and often context-specific urban politics and governance issues, both in contemporary and historical perspectives, that enhance or undermine the current and future dynamics of Somalia's nascent state-building endeavours. In my most recent work, I looked at critical infrastructures as sites for state legitimation in the post-conflict context of Somaliland.
I have also examined the production and reproduction of clan-based segregation in Hargeisa. As a process, I found that it is partially explainable by the state's inability to provide services in a manner that creates cosmopolitan attitudes above the dominant clan identity and belonging.    
In my current research, I am looking at the land conflict and adjudication issues in Mogadishu, particularly the ongoing political (dis)settlement at the national and subnational (regional) levels.
What does your role within ACRC entail?
My role in ACRC is twofold. Firstly, I research urban land conflicts in Mogadishu, focusing on how non-state actors adjudicate land and property-related disputes and how these impacts political (dis)settlement at the national and sub-national levels. And, second, I support research in the land and connectivity domain across the cities identified by the ACRC project.
"One of the things that excites me about this project is that it brings together some of the most prominent scholars on African urban issues and a team of emerging African scholars."
What are you finding most interesting about your work with ACRC so far? What are you most excited about?
One of the things that excites me about this project is that it brings together some of the most prominent scholars on African urban issues and a team of emerging African scholars. Besides the privilege of being in dialogue and discussion with such a strong team of urbanists, I am also enthusiastic that the project provides the opportunity to solicit from and share ideas with relevant policymakers, such as politicians and city managers; policy advocates, such as NGOs and civil society groups; and primary policy beneficiaries or victims, such as the urban residents and advocates of change in how our cities are governed.
In fewer than five words, what one issue do you think needs to be prioritised to improve urban development in African cities?
Critical infrastructures and management regimes.*
What do you enjoy doing in your spare time?
In my spare time, I enjoy having a good cup of Somali tea with friends and family and volunteering for community works when and where possible.
*Note from Abdifatah: Like many developing countries, African cities are reeling with social and economic problems that impede them from satisfying their residents' demands, desires and imaginations. For me, one strand that stands out from the rest is the lack or insufficiency of critical infrastructures to connect people and places and the lack, inefficiency or inappropriateness of management regimes for existing facilities. I believe that this should be prioritised as a critical problem area for immediate attention in both research and policymaking.
Note: This article presents the views of the author featured and does not necessarily represent the views of the African Cities Research Consortium as a whole.
The African Cities blog is licensed under Creative Commons Attribution-NonCommercial-NoDerivatives 4.0 International (CC BY-NC-ND 4.0), which means you are welcome to repost this content as long as you provide full credit and a link to this original post.