Eight postdoctoral research fellows joined ACRC in early 2022, based at The University of Manchester's Global Development Institute. As well as working on their own research, the postdocs are providing vital support across our eight urban development domains, with mentoring from dedicated members of our research team.
Here, Miriam Maina talks about her background in urban planning, her interest in how towns and cities come together and the different actors involved, and why she is excited to be part of ACRC's multisectoral community.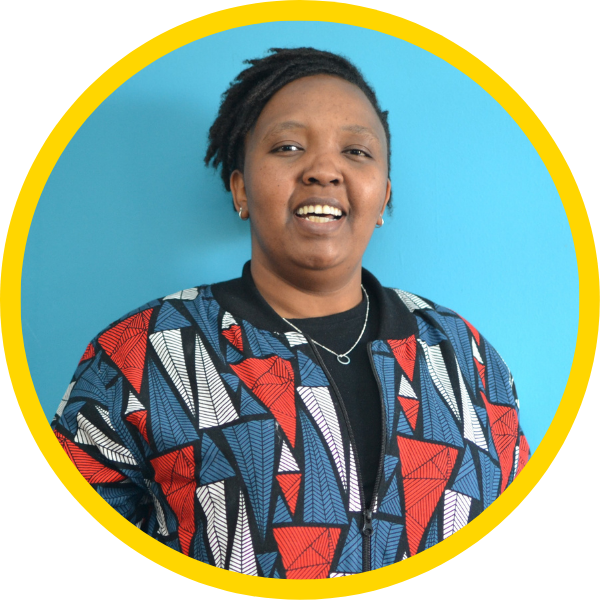 Tell us a bit about your background…
I was born in Nyeri, Kenya but I grew up in Nairobi. My training is in town planning, first at the University of Nairobi, and then at the University of the Witwatersrand in Johannesburg, South Africa. I have worked in urban and housing research organisations in Nairobi and Johannesburg, including the Centre for Urban Research Innovations at the University of Nairobi, the Centre for Affordable Housing Finance in Africa in Johannesburg, and the NRF Chair in Spatial Analysis and City Planning at the University of the Witwatersrand in Johannesburg.
From my life in Nairobi and through working in these organisations, I have developed an interest and passion for African cities, and so my research focuses on the role of urban planning in shaping the development trajectory of African towns and cities.
How would you explain your research to a friend or family member?
I study towns and cities in Africa, focusing on housing, neighbourhoods and local economies. I try to understand how towns come together – where we live, where we work, where our children play and go to school, the markets where we buy our food, how we move from place to place.
I am interested in how all the different actors from governments, big and small investors, and we as city residents work together to create safe, beautiful and liveable spaces. As a town planner, I try to think about how we can use laws, policies and resources/funding to coordinate investments and produce towns and cities that are accessible to all.
What does your role within ACRC entail?
My role in ACRC is to provide support in the housing and human settlements domain. This involves coordinating the different city research projects, liaising with research teams in our cities. Our first phase of cities includes Nairobi, Freetown, Lilongwe and Accra. I am also working on my own research project on urban planning and nodal development in the Nairobi metropolitan project.
"I am excited about what we can learn across the different cities and focus areas that can support local efforts at advocacy or formulating workable policies and programmes."
What are you finding most interesting about your work with ACRC so far? What are you most excited about?
The most interesting opportunity that the ACRC work has provided me is to understand how different towns and cities in Africa are developing. I am learning that the challenges facing housing and human settlements development are very similar across our cities, although there are specific differences in each city. I am excited about what we can learn across the different cities and focus areas that can support local efforts at advocacy or formulating workable policies and programmes.
The fellowship is also bringing together different researchers from across Africa, who are working on other domains, such as land and connectivity, informal settlements, urban safety and security, youth and capabilities, structural transformation, local and neighbourhood economies, and health, wellbeing and nutrition. I am very excited to participate in this multisectoral community, and I look forward to learning more from my fellow colleagues.
In fewer than five words, what one issue do you think needs to be prioritised to improve urban development in African cities?
Adapting and scaling-up local solutions.
What do you enjoy doing in your spare time?
A few things! I like to be outdoors, if the weather is nice, and I enjoy playing sports or learning a new sport. If I am indoors, I like drawing cartoons, reading books and comics, watching a nice sci-fi show, or playing video games. I also enjoy socialising with friends and family.
Note: This article presents the views of the author featured and does not necessarily represent the views of the African Cities Research Consortium as a whole.
The African Cities blog is licensed under Creative Commons Attribution-NonCommercial-NoDerivatives 4.0 International (CC BY-NC-ND 4.0), which means you are welcome to repost this content as long as you provide full credit and a link to this original post.