Urban development domains
ACRC's analytical framework uses the concept of urban development domains to transcend both sectoral and traditional systems-based thinking. We define domains as fields of power, policy and practice that are relevant to solving particular problems and/or advancing specific opportunities in relation to cities.
This blog series delves into each of our eight urban development domains, providing an overview of their context within African cities and what we are seeking to interrogate and better understand through our research.
You can also listen to our podcast interview on informal settlement upgrading with Joseph Muturi, leader of Muungano wa Wanavijiji and chair of SDI's board of directors, below.
By Beth Chitekwe-Biti, David Dodman, Diana Mitlin and Smith Ouma
In most African cities, more than half of the population live in informal settlements. Residents of such settlements often lack basic services and infrastructure, also facing unsafe housing and insecure tenure. In these challenging living conditions, the social networks that residents develop within their settlements are crucial for livelihoods and mutual support. Upgrading has been widely adopted as an intervention by governments to deal with the challenges in informal settlements. When done properly, upgrading can be transformative for residents and their communities.
Benefits of upgrading for residents
Rather than disrupting vital networks by uprooting and relocating residents, upgrading programmes are the best way to improve quality of life within informal settlements. Such programmes can improve neighbourhood infrastructures while low-income residents remain in situ, thus preserving their community networks.
Upgrading helps to reduce poverty, by enabling low-income households to secure lower-cost essential services, such as water and energy, to gain higher social status, and to benefit from increased access to more fairly distributed resources (such as drainage and roads). It can make settlements more resilient to the impacts of climate change and can reduce greenhouse gas emissions by providing efficient infrastructure that reduces risks and improves housing quality. Upgrading tends to consolidate cities and avoid city spread, which also contributes to reduced emissions.
When residents have access to the services essential for good health and flourishing home-based enterprises, a virtuous cycle ensues. With improved health and more profitable home-based enterprises, they are able to earn higher incomes, which in turn enhances their general wellbeing. The needs of vulnerable groups – such as female-headed households, disabled people and marginalised minorities – can also be addressed through well-designed upgrading programmes that include appropriate provision to enable them to access services.
Upgrading particularly takes into consideration the important role of women in securing access to basic services for their households, and recognises the challenges that they experience in accessing basic amenities like water. Women living in informal settlements often have to travel long distances and endure long lines at access points for basic services like water. Additionally, their personal safety can be at risk whenever they  access these services at night, especially in areas that are not properly lit. Children and people living with disabilities also benefit from improved roads and pathways, and better public space.
The work involved in upgrading creates income-generating opportunities that can directly benefit local companies and residents. This is particularly helpful for both skilled and unskilled workers if contracts are issued within the community. In many cases, young people within these settlements will be directly employed in upgrading projects, with local entrepreneurs able to subcontract work. 
Upgrading implementation
Residents need to organise effectively and actively negotiate with authorities and other development partners to ensure that informal settlements upgrading is inclusive. It is particularly important that the most marginalised residents, such as tenants, are organised, so that they can protect their interests. The upgrading process then has the potential to enhance the power of residents' associations.
Effective implementation needs to pull together a complex mix of elements, from systems of bulk infrastructure and service package provision, to planning and building regulation reform, and affordable modes of housing/tenure regularisation. Implementation will, for instance, require that residents' and tenants' associations collaborate with external experts such as planners, engineers and architects, who will in turn work with landlords and their associations. Other actors, such as informal service providers, and formal utility providers, including municipalities, land regularisation agencies, micro-finance agencies and municipal planning departments, will also play critical roles during these upgrading processes.
Elite perspectives
Central to ACRC's research approach is the analysis of political settlements at the city level, including how urban residents are impacted by the decisions of powerful groups. From the perspective of city elites, informal settlement upgrading can enhance their popularity and electoral success. Infrastructure installation can also lead to increased payments of rates and service charges.
Some politicians may use upgrading interventions as patronage to secure political loyalty from the upgraded neighbourhood residents, including those who share a similar ethnic composition. They may, for example, write off loans related to upgrading and land titling. Politicians also use local community leaders during upgrading interventions, and these leaders may exploit residents in relation to rent, access to land and service charges.
Some politicians, however, prefer to focus on creating a "modern" city, rather than upgrading informal settlements. In inner-city, high-density informal settlements on private land, there may be considerable opposition to upgrading from those with claims on the land, as it could be redeveloped (displacing the population) and thus secure considerable profits.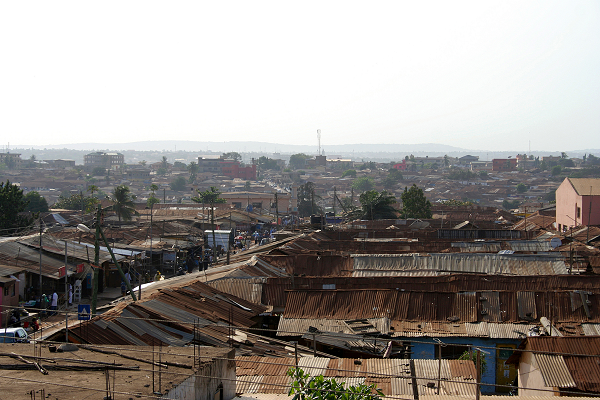 Overlooking Nima settlement in Accra, Ghana. Photo credit: Peeterv / Getty Images
Issues of contention
The scope and scale of upgrading covers a wide spectrum. It may be minimal, limited to providing communal services, or avoidance of eviction threats. Or it may be complete, providing levels of integrated infrastructure and services that are available for formal housing within the same city. Alternatively, minimal improvements may be followed by a series of upgrades over time, resulting in an incremental model.
Upgrading informal settlements is complex and can be contentious. The challenges vary, according to on whether the land is publicly or privately owned. Residents may not see all aspects of the process as beneficial. Reblocking – the moving or reshaping of household plots – may be required to comply with planning regulations and to install infrastructure and services. This can be disruptive to residents and communities and, in some cases, some residents may be displaced.
Most importantly, some of the costs of upgrading are generally transferred to residents, which can be a challenge to low-income households. Furthermore, tenants are less likely to be included in upgrading interventions, as those with stronger claims on the land prefer to capture, rather than share, the enhanced value of their asset. With improved infrastructure and service, rent rises are likely and the lowest-income tenants may be forced out.
While some models for upgrading have been developed, too little upgrading has taken place in African cities. Existing upgrading has lacked affordable options for the lowest-income residents, and tenants are frequently displaced. Upgrading efforts have not addressed the growing significance of adverse climate change and the risks this poses for residents. There have been limited system reforms, and a lack of inclusive options, due to the fact that upgrading has not taken place at the city scale.
ACRC recognises that upgrading requires the support of key actors and context-specific approaches. For example, in inner-city, high-density settlements, medium-rise houses or apartments are likely to be required. We also acknowledge that community participation and involvement in implementation are important for successful outcomes.
Improving understanding for effective urban reforms
The informal settlements domain seeks to understand the political economy and the politics of informal settlement development through the perspectives of both low-income communities, and government officials and local-level politicians who engage with these communities.
The domain will document the growth trajectories of informal settlements in 11 African cities. It will examine the city systems that make a difference to people's quality of life and wellbeing within these informal settlements, the external pressures (and opportunities) facing the settlements, such as climate change, and the ways in which organised communities have sought to address the needs of residents of informal settlements at the city scale.
To achieve these objectives, the domain team will interview key informants, both at the city level and within the neighbourhoods being studied. The team will analyse household budgets and carry out geospatial analysis to provide a sense of the quality of structures and services at a macro-scale. It is anticipated that the domain's work will contribute to urban reforms and facilitate a better understanding of how to systematically deal with the challenges in informal settlements.
Header photo credit: master2 / iStock. Kibera informal settlement in Nairobi, Kenya.
Note: This article presents the views of the author featured and does not necessarily represent the views of the African Cities Research Consortium as a whole.
The African Cities blog is licensed under Creative Commons Attribution-NonCommercial-NoDerivatives 4.0 International (CC BY-NC-ND 4.0), which means you are welcome to repost this content as long as you provide full credit and a link to this original post.