Crosscutting themes
A number of core themes cut across different elements of the African Cities conceptual framework, including climate change, finance and gender. Due to their centrality in the political economy of urban development in Africa, these issues will be subject to explicit investigation and analysis.
For International Women's Day, we're outlining how we're approaching gender as a crosscutting theme in our research. You can also listen to our podcast interview with Rachel Tolhurst, co-lead of the gender crosscutting theme, below.
By Rachel Tolhurst, Sally Theobald, Beth Chitekwe-Biti, Jane Wairutu, Jackie Waithaka, Stanley Mburu, Lilian Otiso and Haja Wurie
Women living and working in African cities are diverse in many ways – including ethnicities, social class, (dis)abilities and sexualities – all of which influence their opportunities and challenges to thrive.
However, despite gender equality policies at national level, there are persistent gender-based disparities, inequalities and exclusions faced by many women, particularly among low-income urban residents. Indeed, while urbanisation may offer greater opportunities for women – for example, in employment, access to services and changes in social and household dynamics – this is not always the case.
Within gender and development discussions,  gender inequalities are generally understood as a result of patriarchy as a system of power, and intersecting with other systems of power – such as (neo-)colonialism, racism, ableism, ageism, and class systems – and therefore with other axes of (dis)advantage.
For instance, "middle class" women may be advantaged in many respects in comparison with "working class" men, such as in terms of access to a range of material and social resources, while still experiencing some disadvantages, such as discriminatory laws or lack of sexual and reproductive rights.
While decisionmakers might recognise these as longstanding issues, and implement measures to address ingrained inequalities, these are often translated through gender and societal norms and can thus result in unintended yet harmful consequences. As such, it is important to recognise that gender inequalities do not always favour all men, and there is also a growing recognition about how gender inequalities can negatively impact people who do not identify as male or female.
This complex interplay with other facets of society means that understanding how gender intersects with other key urban development domains will be central to our research into African cities.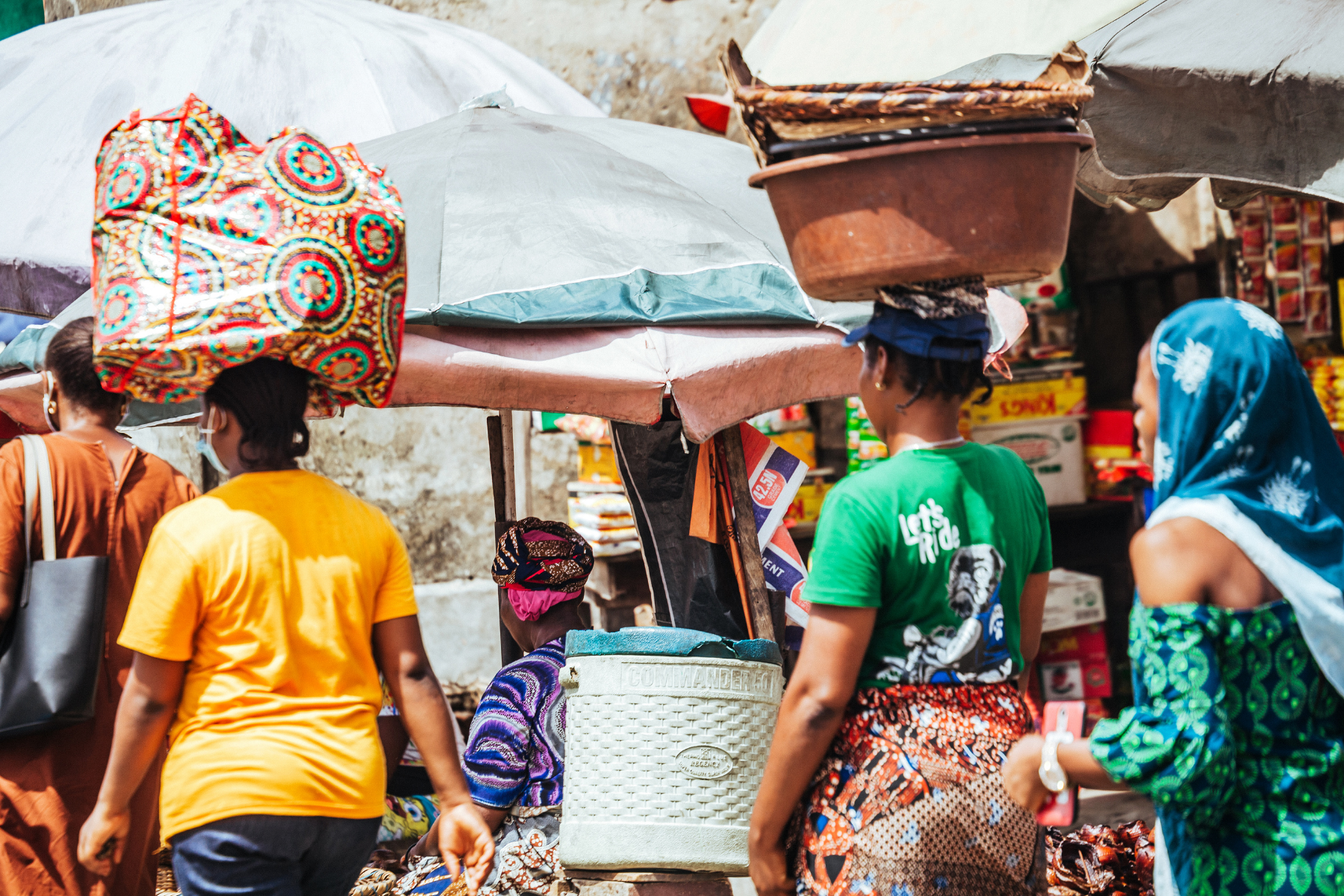 Local women on a busy market street in Lagos, Nigeria. Photo credit: peeterv / iStock
Women and urbanisation
An increasing number of women are living in cities, with many heads of urban households set to be women in the near future. Migration into cities is also gendered, both in terms of what pushes households to leave their previous home, such as gender inequalities in rural areas – where a widow might be sent out of her matrimonial home following the death of her husband, for example – and what pulls them towards urban areas, including segmented employment opportunities in cities.
Often facing a double burden of labour, women and girls tend to carry out unpaid, "reproductive" work like caregiving at the household level, while also undertaking low-paid, "productive" work – as informal traders and food vendors, for instance. Although crucially important to sustaining the life of the city – especially in providing for the large numbers of the urban population who live in informal settlements and lack easy access to various services and amenities – this simultaneously perpetuates the constraints that women face in achieving wellbeing.
Plus, women and girls often have more limited access than men in the same social group to financial, physical, productive human and social capital that would enable them to navigate the potential opportunities of the city.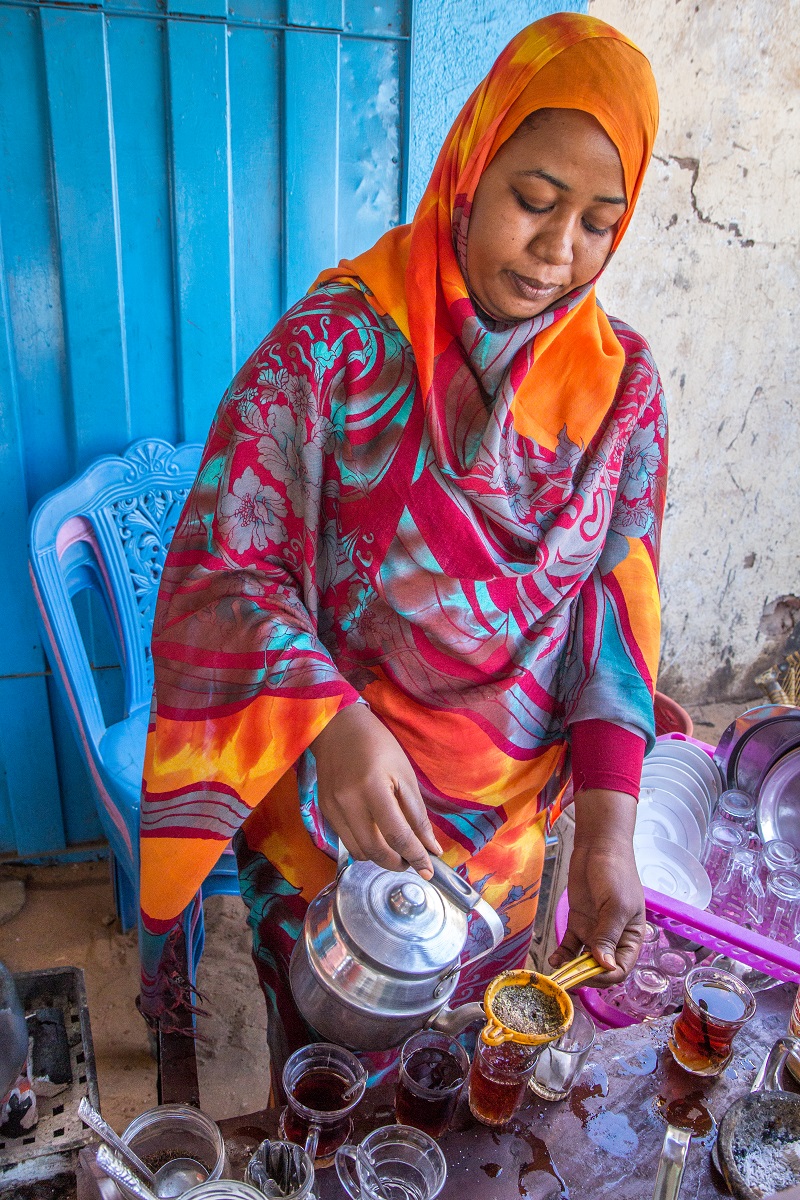 A woman pouring tea in Khartoum, Sudan. Photo credit: kertu_ee / iStock
An intersectional approach
Recognising the complexities inherent to gender relations, we will draw on intersectionality theory in our research, acknowledging and exploring the ways that gender interacts with other axes of disadvantage to influence an individual's position in specific contexts.
Crucially, this perspective links action for gender equality with struggles for equality in other power systems. For example, collective action by low-income urban groups to pursue their "rights to the city" may be more effective as well as more equitable with attention to and recognition of women's contributions and challenges. Initiatives focused on the rights of women and girls also need to incorporate the context-specific struggles and contributions of LGBTQ+ women and those living with disabilities.
Crosscutting gender analysis
Gender inequalities crosscut each dimension of the ACRC conceptual framework. Political settlements are gendered in a number of ways, including ideas, power bases and their implications for development outcomes.
Looking at cities of systems, gendered patterns of productive and reproductive labour shape human interaction with material systems and underpinning social systems, and thus inequities in the allocation of goods and services.
Moreover, gendered social relations are integral to the functioning of and uneven outcomes within urban development domains. For instance:
Structural transformation – Women tend to be concentrated in lower-quality, more precarious forms of paid work, as a result of needing to reconcile income-generating activities with reproductive work, along with gender discrimination in labour markets. They are also differentially impacted by transport access challenges, while sexual harassment and gender-based violence may also serve as barriers to women utilising transport services.
Neighbourhood and district economic development – The constraints placed on women and girls by reproductive labour burdens that influence their access to paid work consequently impact their potential contributions towards neighbourhood economies through "productive" work. Women and girls may also experience gender discrimination in labour markets and relatively poor access to credit. Although they play important roles in social organisation and collective action to improve neighbourhoods, women and girls often face gender-based challenges in these processes.
Land and connectivity – Women, youth and ethnic minorities are likely to be excluded from accessing land or land rights by both formal and informal land governance institutions. Unequal access to transport, digital and connective infrastructures may further constrain the ability of marginalised women and men to develop secure livelihoods.
Housing – Although there is wide recognition of housing as a critical physical and productive asset prioritised by women, their access to housing is often constrained by discrimination in housing markets, policies, law and practice. Where men are typically assumed to be "household heads", land and housing titles tend to be registered in their names, meaning that women often lack legal rights to their homes. Laws might be implemented to address these challenges, as in Sierra Leone, but can perpetuate gender norms.
Informal settlements – Women often face a "triple burden" as they have to make contributions to community needs in addition to their personal and family needs. However, these community contributions can be empowering for women, with women-led local groups providing spaces to help them navigate patriarchal spaces inside and outside of the home.
Health, wellbeing and nutrition – Women and girls are often the primary "producers" of household health, through food preparation, washing and healthcare, along with productive work like food vending. In informal settlements they are usually the "breadwinners", directly responsible for feeding the family and by extension the community. But food vendors do not necessarily know the nutritional properties of their products and young mothers are not always well-informed about healthy diets for their children. Furthermore, finances are a key constraint to accessing a healthy range of foods.
Safety and security – Participation in and victimisation by violence is clearly gendered, with women and girls along with LGBTQ+ and persons with disabilities particularly affected by intimate partner violence and sexual violence. Young girls and women are among the most vulnerable, facing early or child marriage and child labour. Processes, power and outcomes of informal justice are also shaped by gender norms and ideologies, such as those around household power and sexuality.
Youth and capability development – Both young women and men face intersectional vulnerabilities based on their gender and age. While young women face sexual violence, including abuse within education systems and experience multiple long-term consequences of early pregnancy, young men's disenfranchisement is shaped by masculinities intersecting with other inequalities such as ethnicity. Lack of parental support, mentorship or positive role models can mean they are drawn into drug dependence or join criminal gangs. Young women and men are excluded from critical decision making processes, including the design of youth programmes, which has a negative ripple effect across other domains. There is a lack of gender-sensitive public spaces and platforms for young women and men to build their self-esteem and use their talents.
With our focus on identifying potential solutions to complex priority problems, we will be seeking to understand not only how gender intersects with these urban development domains, but how processes of transformation can be driven to address gender inequality in African cities.
Header photo credit: Syldavia / iStock. Women food vendors in Nairobi, Kenya.
Note: This article presents the views of the author featured and does not necessarily represent the views of the African Cities Research Consortium as a whole.
The African Cities blog is licensed under Creative Commons Attribution-NonCommercial-NoDerivatives 4.0 International (CC BY-NC-ND 4.0), which means you are welcome to repost this content as long as you provide full credit and a link to this original post.