Urban development domains
ACRC's analytical framework uses the concept of urban development domains to transcend both sectoral and traditional systems-based thinking. We define domains as fields of power, policy and practice that are relevant to solving particular problems and/or advancing specific opportunities in relation to cities.
This blog series delves into each of our eight urban development domains, providing an overview of their context within African cities and what we are seeking to interrogate and better understand through our research.
By Stephen Gelb and Ademola Omoegun
More than 80% of urban workers in sub-Saharan Africa (SSA) work in the informal sector, according to the ILO. Most work in household microenterprises (HMEs), informal businesses employing the entrepreneur either alone, or together with members of their household.
With low skills and little capital, HMEs' productivity is very low. Because most cities in SSA are congested and internally disconnected, transport to obtain inputs or sell products is costly and time-consuming, so that many HMEs are limited to very small markets. Access to energy is often limited or unreliable. Many HME entrepreneurs are women and have additional domestic and family obligations. Earnings from HMEs are generally low and precarious, often not enough to escape poverty. Moreover, HMEs are vulnerable to the effects of climate change and environmental hazards, such as air pollution or water contamination. They have limited political "voice" and are often forced to pay irregular fees to unofficial powerholders, such as criminal gangs.
We do not have data for urban areas only, but looking at urban and rural areas together in SSA, 70% of informal workers work in HMEs: 52% as owners and 18% as contributing family members. There are three main groups of HMEs:
Home-based workers, providing personal services, such as hairdressing or childcare, doing repairs and maintenance on cars, bicycles or small household appliances, or doing small-scale manufacturing, making metal fittings or furniture, or assembling clothes or small electronic items using components supplied by large contractors.
Traders, either in marketplaces or on the street, selling fresh produce, prepared food or household goods.
Waste-pickers, collecting solid waste and transporting it to dumps or recycling depots.
Traders and waste-pickers often use their homes as processing and storage spaces. So for all HMEs, housing quality, security of tenure and rental arrangements, and access to and cost of infrastructure services such as electricity, water and transport, are critical for the household livelihoods they provide.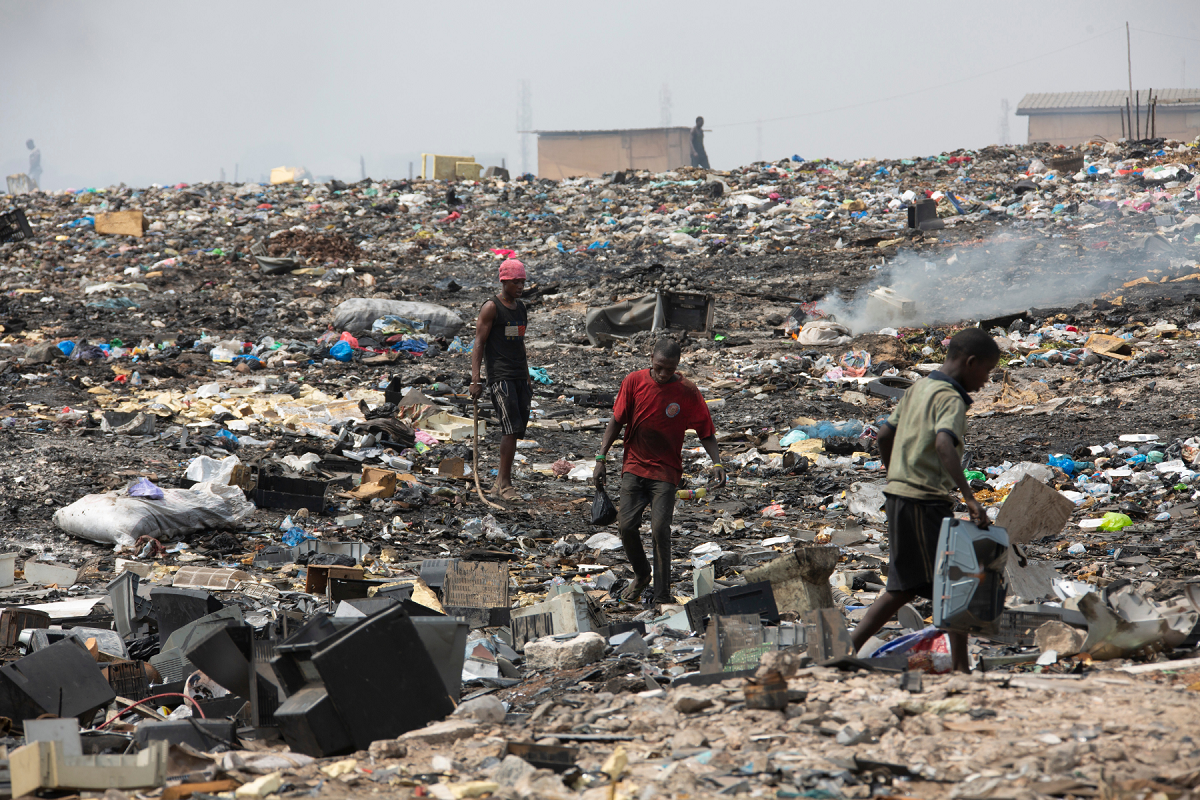 People sorting through waste at a disposal site in Accra, Ghana. Photo credit: SeppFriedhuber/ iStock
Productivity, profitability and sustainability
Given their importance in terms of providing employment and livelihoods to a large share of the population, HMEs are a significant group within the economy in most SSA cities. But their low productivity and profitability means that their aggregate contribution in financial terms to the city economy remains marginal. Within the neighbourhood and district economic development domain, we are interested in how HMEs' productivity and profitability can be increased, and how they can become more economically viable as businesses and more resilient to climate change and environmental disaster.
The domain aims to gain a holistic understanding of HMEs in the context of their value chains, by examining their market activities (both buying and selling), the economic and political barriers they face in those markets, and how they interact with other enterprises within the city economy, especially larger, more formal businesses.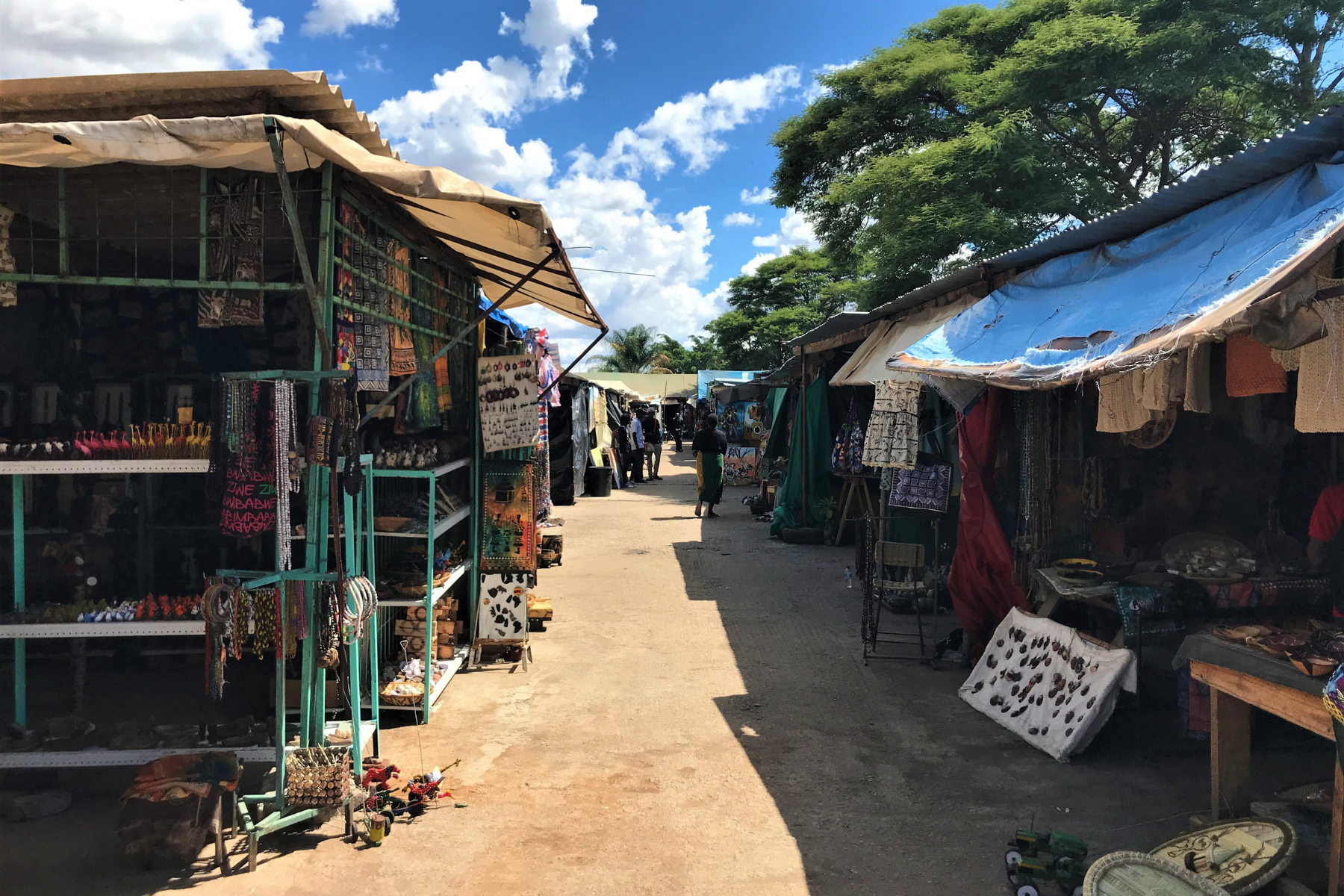 Avondale Market in Harare, Zimbabwe. Photo credit: VV Shots / iStock
Neighbourhoods and districts
Neighbourhoods are residential spaces which are also crucial economic spaces for many residents. Residents include households running HMEs inside and outside the neighbourhood itself, and others employed by larger firms outside the neighbourhood.
Districts are spaces of economic and commercial activity with few or no residents, but with many HMEs and larger firms.
ACRC's research into neighbourhood and district economic development will initially run in Accra, Harare and Lilongwe. In each city, we will investigate three different types of area:
A low-income neighbourhood near the city centre;
A low-income neighbourhood closer to the city periphery;
A commercial district accessible from a range of residential areas.
Gaining a holistic picture
We will use semi-structured interviews of HME operators themselves and of key informants.
We will ask HMEs about the following issues, among others:
1. The structure of the markets where they buy and sell – their suppliers, customers and competitors – and their behaviour in those markets. For example, how are prices set? How do they get information about new suppliers or about customers' choices?
2. The infrastructure services they use – energy, water, transport and communication. For example, what is their cost, quality and reliability? Do they have good access to these services? Are these services overcrowded?
3. Their engagement with political authorities and with holders of informal or illegal power. For example, do they pay taxes and fees? Are they forced to make unofficial payments to anyone? What benefits or services do they receive in return for such charges?
4. Their use of formal and informal financial services. For example, do they have a formal bank account? How do they make payments or receive them? Do they borrow funds, and if so, from whom?
5. Their business networks and political involvements. For example, do they belong to trade associations or other membership-based organisations? Who advises them on business decisions? Have they participated in business-related programmes offered by government agencies or other organisations, providing training, financial support or business advice?
We will ask key informants in local government agencies, NGOs and civil society organisations (CSOs), and local researchers, about current policy interventions and programmes being offered in these neighbourhoods. Because they are so small individually, collective action by HMEs is essential for them to engage in politics and policymaking and we will also interview business or proto-business associations operating in the neighbourhoods and district.
Our research will provide a basis for policy engagement with local governments and with formal business associations. More effective linkages between large enterprises and HMEs will help improve the livelihoods and wellbeing of those living and working in informal neighbourhoods and districts and help to provide a more sustainable future.
Header photo credit: Peeterv / Getty Images. Market stalls by the side of a street in Lagos.
Note: This article presents the views of the author featured and does not necessarily represent the views of the African Cities Research Consortium as a whole.
The African Cities blog is licensed under Creative Commons Attribution-NonCommercial-NoDerivatives 4.0 International (CC BY-NC-ND 4.0), which means you are welcome to repost this content as long as you provide full credit and a link to this original post.