By Hannah van Rooyen, African Cities Research Consortium digital communications officer
It has been an exciting month for the African Cities Research Consortium, as members from across the consortium met together in person for the first time in Nairobi. Running from 17 to 19 May, our workshop brought together more than 80 delegates – mostly research teams from our focus cities, along with those from The University of Manchester and other partner institutions.
Vibrant discussions were held over the three days of meetings, exploring a vast array of topics including ACRC's conceptual framework, urban reform, community knowledge, capacity strengthening, research uptake, decolonisation and priority complex problems.
After more than 18 months of meeting and collaborating remotely, the workshop was the first time that many colleagues were meeting in person and provided a brilliant opportunity to share updates on progress, ideas for improvement, and ambitions for the next stages of work.
The key objectives of the workshop were to:
Review and assess progress to date on city and domain studies, enabling experiences to be shared across cities, domains and cross-cutting themes (climate, finance and gender).
Identify which processes are working well and what needs to be improved.
Develop processes for cross-city and cross-domain analysis at the city level, along with cross-domain and thematic analysis at the programme level.
Share information and ideas for the implementation phase.
Review ACRC knowledge generation and knowledge use processes in terms of equitability and inclusivity, including issues related to decolonisation.
Advance a culture of sharing and build knowledge around the contribution of others involved (including cities, domains and uptake) to facilitate engagement going forward.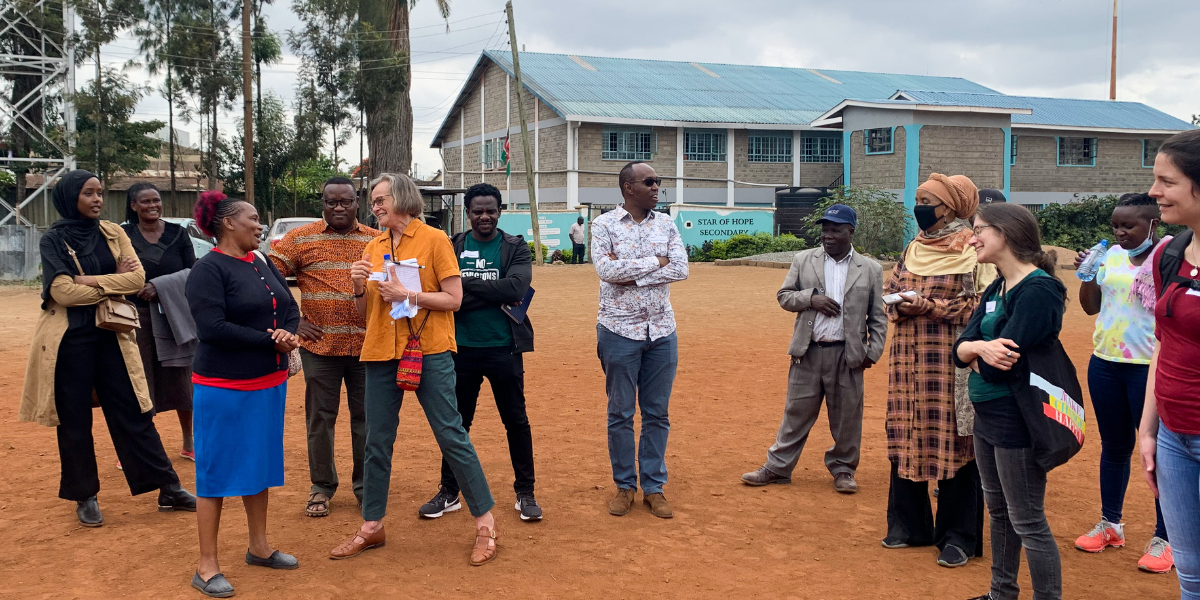 Outside the Star of Hope School in Viwandani, Mukuru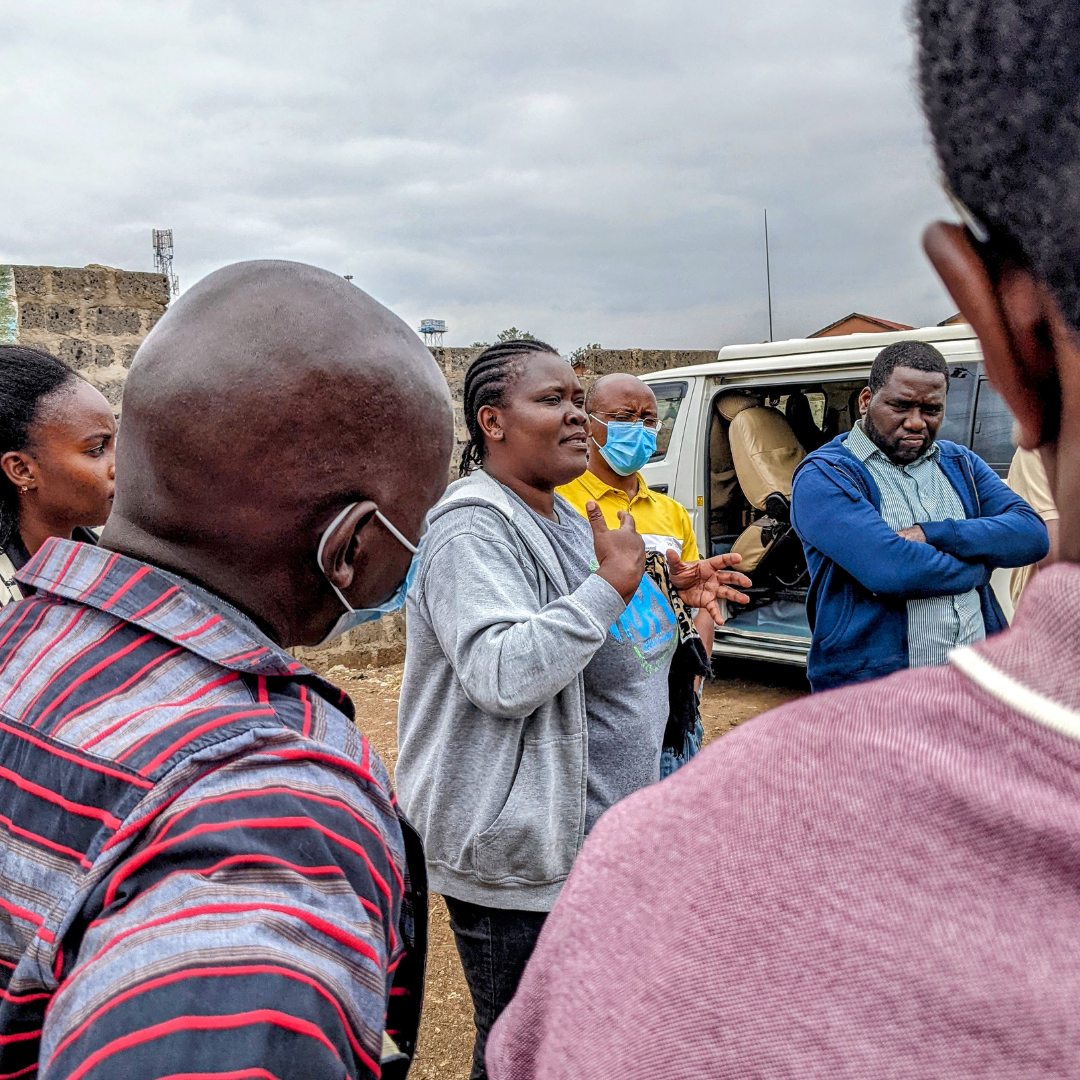 Mukuru community leader Dorice Moseti welcomes the group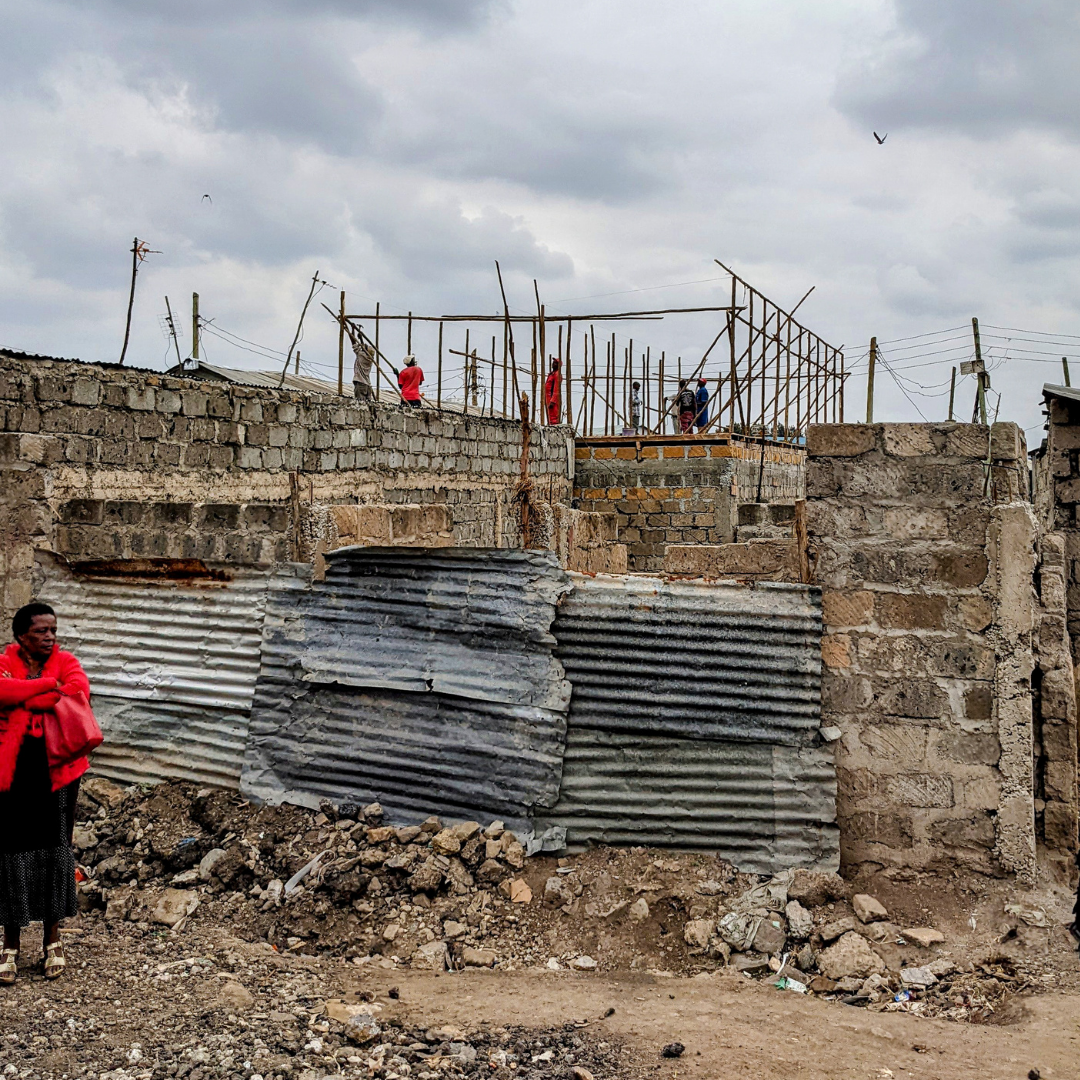 Construction site in Mukuru kwa Reuben
Mukuru field visit
The week of meetings started with an optional field visit for consortium members to the informal settlement of Mukuru. We were separated into two groups and shown around Mukuru kwa Reuben and Viwandani by community members and organisers from Muungano wa Wanavijiji, the Kenyan federation of slum dwellers and an affiliate of Shack/Slum Dwellers International (SDI).
To help upgrade the settlement, Muungano has long been involved in a process of engaging both the communities and local authorities. This has led to significant progress in Mukuru, especially following its designation as a Special Planning Area (SPA). Over the last 18 months, clean water kiosks have been set up, water and sewerage piping networks extended and many roads improved.
While there have been many challenges and obstacles to overcome, the reform coalition between the community members, civil society organisations, local government, land and structure owners, researchers and national government has been crucial to driving progress.
And the hard work continues. With a vision to improve access to housing for residents in the settlement and deliver further training on community organising, we're looking forward to seeing what Muungano achieves next.
Day 1 | ACRC overview, urban reform, domains + crosscutting themes
The first day of the workshop began with an overview of ACRC's research approach and theory of change from Diana Mitlin, followed by a group session discussing the necessary and sufficient conditions for urban reform in African cities.
Next up, we had a round of "turbo talks" from our domain teams, providing the wider consortium with an overview of the issues being explored, updates on progress, overlaps with other domains and exciting findings so far.
Sam Hickey, Seth Schindler and Tim Kelsall then talked through our conceptual framework, with valuable insights provided by Joseph Macarthy, executive director of the Sierra Leone Urban Research Centre, into the work being done in Freetown.
The group split into parallel sessions in the afternoon, discussing domains, city of systems, political settlements and uptake work across our focus cities.
And the final session of the day focused on our three crucial crosscutting themes – gender, finance and climate change – with presentations and smaller group discussions led by Rachel Tolhurst, Gundula Löffler and David Dodman.
Day 1 of our workshop in Nairobi kicks off with an icebreaker – consortium members placing themselves along continua of political economy vs urban systems, research vs programming, and more ↔️

All agreed that effectively communicating evidence is key to driving policy change 🗣 pic.twitter.com/p0WlKQJJvj

— African Cities Research Consortium (@AfricanCities_) May 17, 2022
Day 2 | Decolonisation, community knowledge + uptake
After an overview from Sam Hickey, our second day of meetings commenced with a session on decolonisation, led by Ola Uduku and Shuaib Lwasa. The group explored questions around decolonising research structures, overcoming unconscious bias and prioritising community and practitioner voices.
Next up, Beth Chitekwe-Biti moderated a panel on community knowledge, featuring Nancy Njoki, Dorice Moseti, Nicera Wanjiru, Joseph Muturi and Eva Muchiri from Muungano wa Wanavijiji. The team talked about their experiences of partnering with researchers, NGOs and government on data collection and the importance of community-generated interventions.
ACRC's uptake director Martin Atela and communications manager Chris Jordan then led a session on research uptake, looking at its role in addressing priority complex problems, the key components of uptake, and next steps in the consortium's uptake strategy.
Parallel sessions in the afternoon focused on bilateral linkages across domains – or domain "speed dating", as it came to be known – and the lessons that set 2 cities can learn from set 1 cities. These were followed by open space discussions on capacity strengthening and publications strategy, operations and safeguarding.
The day ended with an update on Covid Collective work and findings, along with a meeting for informal settlements and political settlements leads to agree on an approach for wider discussion and action.
Day 3 | Priority complex problems, reflections + next steps
Our final day of workshops started with an introduction from Martin Atela, who looked back on the previous day's discussions and ahead to the remaining few sessions. Diana Mitlin then took over to deliver an overview of priority complex problems (PCPs) – covering the identification process and next steps – and answering questions about the coordination across domain and city teams.
The dialogue around PCPs and the next phase of ACRC continued with group exercises and a "fishbowl" discussion, giving domain leads initially and then everyone else a chance to air thoughts, ideas and queries in an open forum.
Moving on to reflections on progress so far, Shuaib Lwasa invited the group to think about ACRC in terms of its impact on individual members and whether/how the three-day meeting had lived up to its purpose. The general consensus was that simply meeting in person had been invaluable for deepening understanding, and that holding the meeting in Nairobi had been critical to shifting the locus of expertise to Africa.
Wrap-up remarks from Sam Hickey and Diana Mitlin were then followed by an insightful presentation on the development of the Mukuru SPA from urban planner Peter Ngau and consultant Mary Mutinda – focusing on the planning, consultation and implementation process and highlighting the importance of community participation to influence change.
After two days filled with conversations about driving ACRC forward, our third and final day of meetings is underway!@PASGR_'s Martin Atela gets things moving with a run through of today's activities, followed by a session on Priority Complex Problems from @DianaMitlin 🎯 pic.twitter.com/cYqTRIDmCg

— African Cities Research Consortium (@AfricanCities_) May 19, 2022
Despite a packed agenda and a huge amount to discuss, the levels of energy and investment only built as the days went on. We still have a lot to unpack from the workshop and a healthy amount of feedback to channel into our processes as we drive ACRC forward. But encompassing many of the thoughts, queries, challenges and ideas was a resounding question put forward by Muungano wa Wanavijiji: "What will ACRC's legacy be?"
As we reflect on lessons learned and look ahead to our implementation phase, it's a vital question to keep in mind.
Header photo credit: Chris Jordan
Note: This article presents the views of the author featured and does not necessarily represent the views of the African Cities Research Consortium as a whole.
The African Cities blog is licensed under Creative Commons Attribution-NonCommercial-NoDerivatives 4.0 International (CC BY-NC-ND 4.0), which means you are welcome to repost this content as long as you provide full credit and a link to this original post.