By Kweku Koranteng, ICLEI Africa
Navigating urban reform
The Freetown uptake workshop on 23 March 2023 examined how to integrate research evidence from ACRC Freetown city studies into processes and activities to achieve congruence between policy actions and urban transformation practices and programmes in the city. It was organised by ICLEI Africa, with support from the Sierra Leone Urban Research Centre (SLURC) and SDI affiliate, the Centre for Dialogue on Human Settlements and Poverty Alleviation (CODOHSAPA). The event convened over 50 participants from the Sierra Leone government (various ministries, departments and agencies), civil society organisations, development partners, community members and private sector partners in Freetown.
The workshop unpacked challenges and opportunities related to the politics of urban reform, the systems approach to city services, and research findings from four of ACRC's thematic areas – housing, informal settlements, health, wellbeing and nutrition, and youth and capability development. Each of these study areas provided insights into the complexities of urban development in Freetown. Disaster risk management in the city was highlighted as a crosscutting theme and a critical area needing urgent attention and intervention.
Political dynamics and the struggle for urban transformation
The politics of urban reform in the city demonstrates a complex relationship between political actors and their influence on the development of urban spaces. Politics serves as both an enabler and a constraint for urban reform, exacerbated by competing interests that create an atmosphere of contestation amongst stakeholders. Competition and disconnect are most visible when different political parties serve at different levels of government, such as national and local authorities. However, such contestation can occur even within the same party, as internal factions pursue control over urban development initiatives. Therefore, navigating the city's political settlements becomes a crucial pathway for achieving development.
The scarcity of resources available for development hampers aspirations for urban reforms in Freetown. Limited resources intensify competition amongst interest groups, resulting in fragmented and inefficient urban planning, ultimately undermining the city's potential for sustainable growth, economic development and improved quality of life for its residents.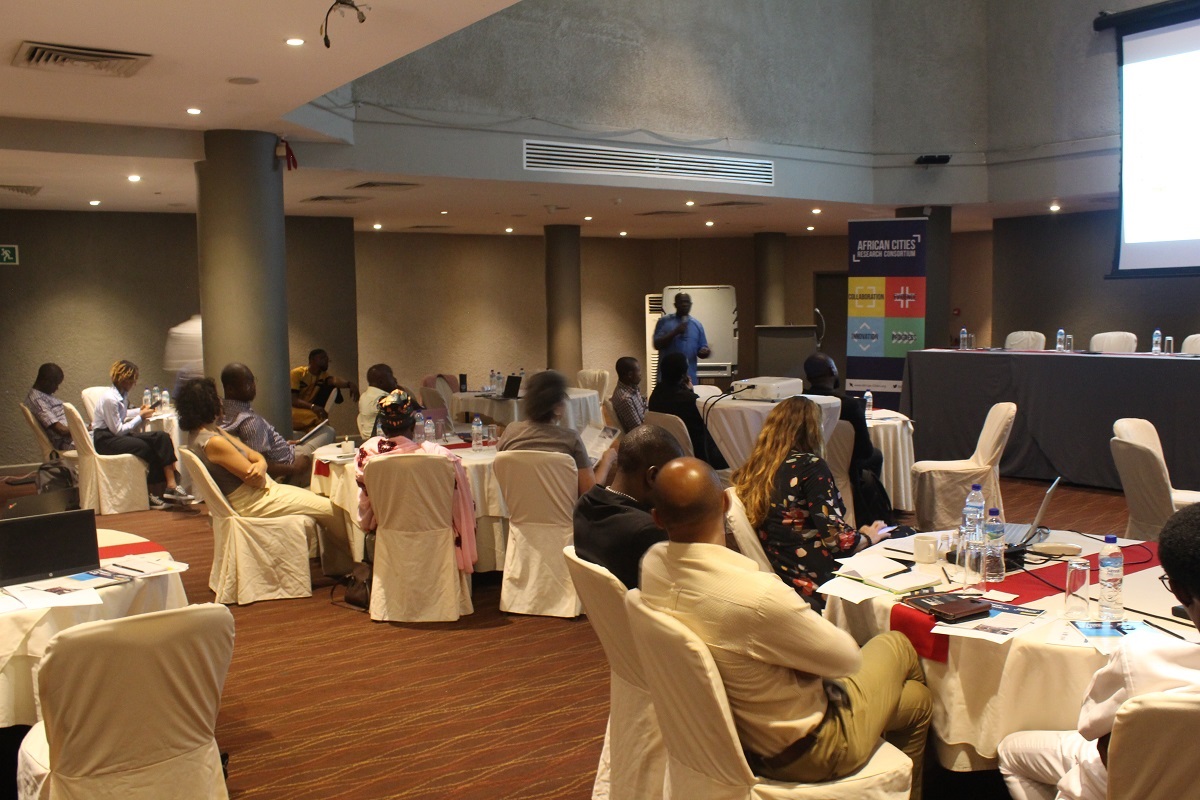 Joseph Macarthy, ACRC Freetown city lead and executive director of the Sierra Leone Urban Research Centre (SLURC), addresses workshop participants.
Deconstructing informality: Service provision, economic resilience and power dynamics
In Freetown, the lack of access to adequate service provision has given rise to a myriad of informal socioeconomic and political activities. Informality is defined as emerging when only 35% of service is offered to any settlement in Freetown. These limited services include access to water, sanitation, schools, healthcare and electricity. The absence of these services breeds a complex array of informal activities to provide alternatives to service delivery. These activities serve not only as coping mechanisms for the residents but also as platforms for informal power dynamics and economic transactions.
The inadequate formal service provision creates a gap that fosters a conducive environment for the informal economy to thrive in underserved communities that constitute the bulk of Freetown's population, with limited access and poor connections to the city's infrastructure of basic service provisions. Many residents are forced to rely on informal service providers to meet their basic needs – for instance, by establishing makeshift water distribution systems or creating informal community waste disposal sites. These grassroots initiatives could be viewed as adaptive responses to challenging circumstances. Due to their unregulated nature, however, they often have unintended consequences, such as health hazards, safety breaches, environmental degradation and economic exploitation. Given these contextual realities, there is a need to consider embracing informality as a way to safeguard marginalised communities and meet a glaring gap in service delivery.
The lack of formal service provision in these areas has also given rise to intricate informal political structures. Community leaders, popularly known as "slum lords" or "gatekeepers", wield significant power and influence without effective state governance. These informal leaders may negotiate access to services on behalf of their communities, often in exchange for loyalty and political support. In the long term, these informal arrangements have the potential to evolve into a complex web of patronage networks that could entrench social and economic inequalities within the settlements, perpetuating further injustices and exclusivity.
Innovative strategies for enhancing health, wellbeing and nutrition
Addressing the issues of health, wellbeing and nutrition is paramount to ensuring a vibrant and thriving urban community. Two innovative strategies have been proposed to tackle these challenges: vertical agriculture; and leveraging social media and influencers to rationalise desired behaviour change through public health campaigns.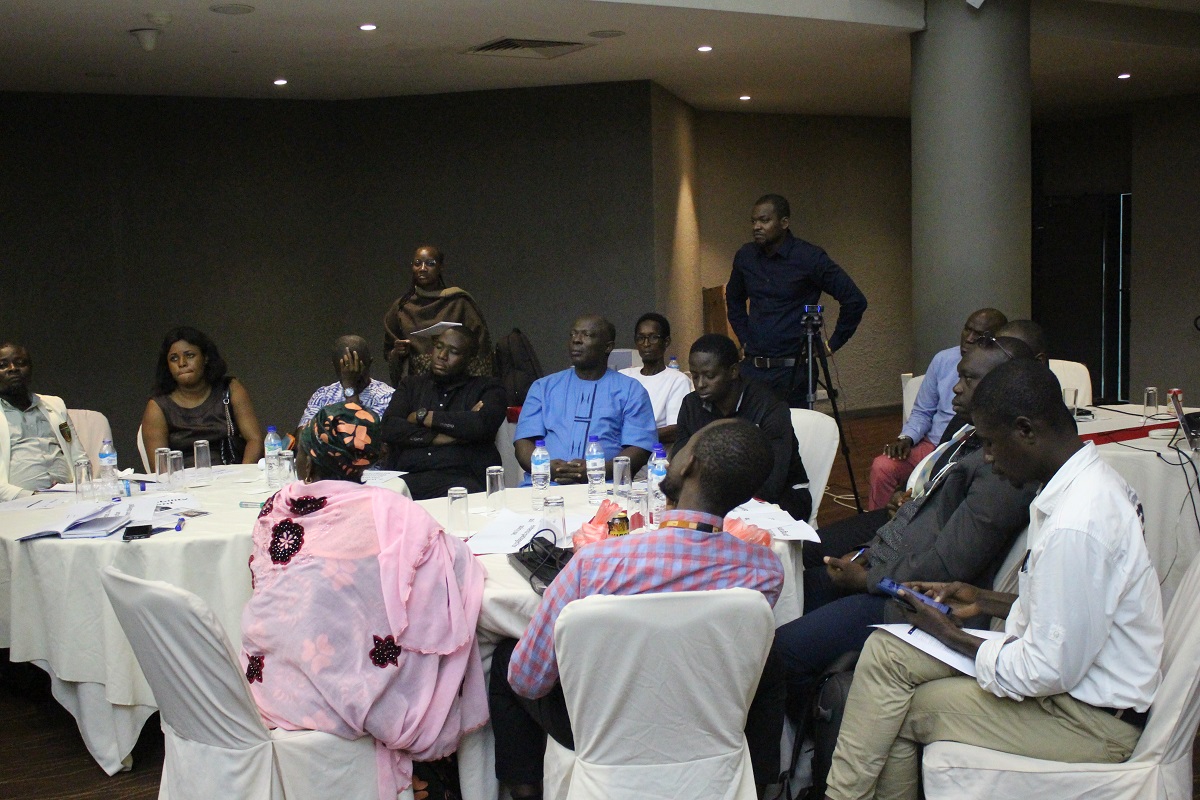 Small group discussions at the Freetown uptake workshop.
Vertical agriculture has the potential to significantly improve healthy diets in Freetown by maximising the use of limited urban space to grow fresh fruit and vegetables. This farming method involves cultivating plants in stacked layers or vertically inclined surfaces, such as walls and rooftops, reducing the land required for traditional farming. By promoting and investing in vertical agriculture, the city has the potential to increase the availability of nutritious food options, reduce food insecurity, and promote healthier eating habits among its residents. Additionally, vertical farming has the potential to create new employment opportunities for the youth and also reduce transportation emissions associated with distributing food from the hinterlands of Sierra Leone to Freetown. The co-benefit of vertical farming programmes will extend beyond the provision of a balanced diet to city inhabitants by offering economic and environmental benefits to the City of Freetown.
Leveraging social media and influencers has emerged as a powerful strategy for driving desired behaviour change through public health campaigns. By harnessing the extensive reach and influence of popular social media platforms, these campaigns can effectively disseminate critical health information and promote positive healthy behavioural shifts among diverse populations, especially the youth of Freetown. Influencers, with their large and loyal followings, can serve as credible and relatable spokespersons for public health messages, making complex concepts more accessible and engaging to their audience. Through strategic partnerships with influencers, public health campaigns can amplify their impact by tapping into the trust and rapport that these figures have established with their followers. By combining the persuasive power of social media platforms and the credibility of influencers, public health campaigns can reach a broader audience, foster informed dialogue, and ultimately inspire individuals to adopt healthier behaviours for the benefit of their communities and society at large.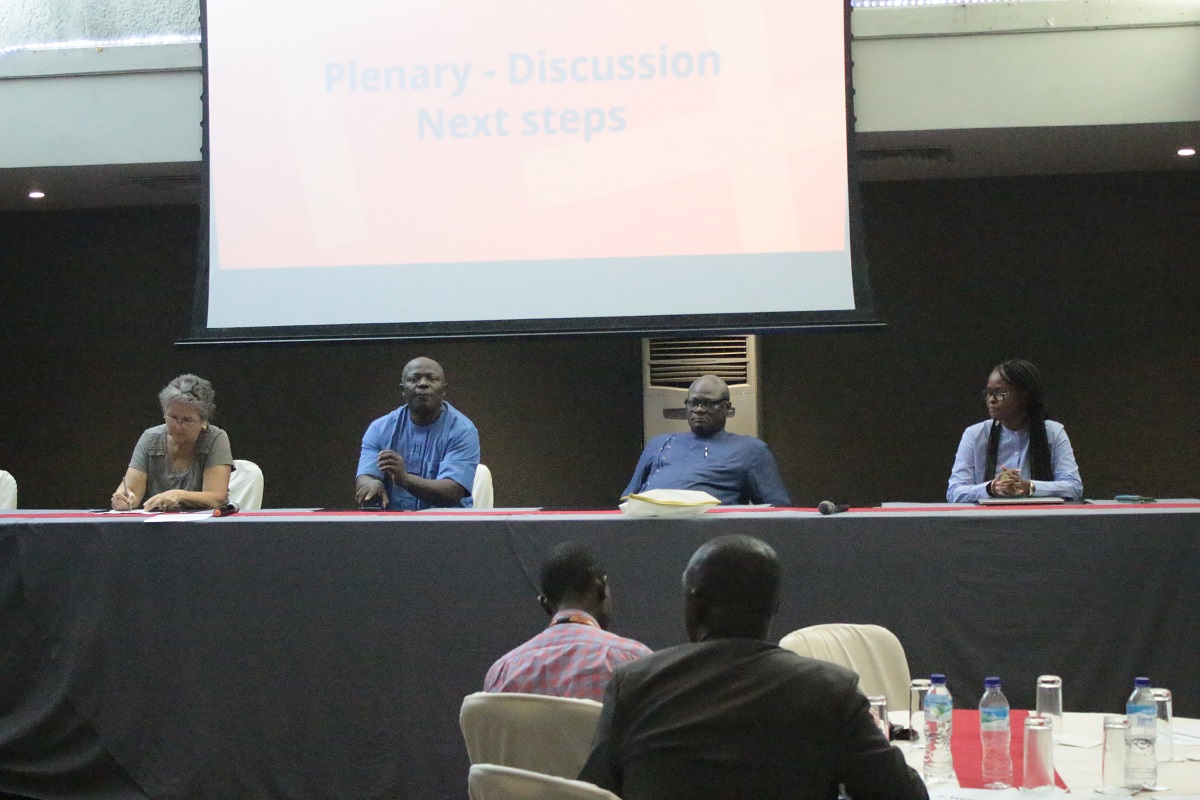 Plenary panel discussion covering the next steps of the ACRC programme in Freetown.
Towards a resilient and inclusive Freetown: Addressing challenges and embracing opportunities for urban development
Stakeholders called for continued engagement beyond the foundation phase of the ACRC project. They suggested there is a need to package the research evidence in more accessible formats, such as stories of impact (videos), infographics, presentations in bilateral and town hall meetings, and policy briefs.
In conclusion, fostering sustained urban development in Freetown requires a multifaceted approach that addresses the challenges posed by political contestations, informality, health, nutrition, and disaster risk management. By promoting collaboration between different levels of government, prioritising service provision in informal settlements, and adopting innovative strategies to improve health, wellbeing and nutrition, the city can create a more inclusive and resilient urban environment. The adoption of integrated, rather than sector-silo, approaches to development was recognised as key to achieving better and more valuable outcomes in the city. The urgent need to resolve bottlenecks in devolution and decentralisation was also highlighted as a pathway for enhanced coordination.
Policy reforms to strengthen governance systems, foster collaboration amongst government agencies, and establish mainstream accountability and enforcement planning regulations were recommended as enablers of urban reforms. Furthermore, proactive disaster risk management strategies emphasising low-cost, high-impact solutions and capacity-building can help Freetown adapt to the challenges posed by natural hazards and climate change. By addressing these critical issues, Freetown could pave the way for a brighter and more prosperous future for its residents.
Photo credits: ICLEI Africa
Note: This article presents the views of the author featured and does not necessarily represent the views of the African Cities Research Consortium as a whole.
The African Cities blog is licensed under Creative Commons Attribution-NonCommercial-NoDerivatives 4.0 International (CC BY-NC-ND 4.0), which means you are welcome to repost this content as long as you provide full credit and a link to this original post.