By George Masimba, head of programmes at Dialogue on Shelter
ACRC's research activities in Harare have gone up a gear following an interim workshop hosted in March this year and, more recently, an uptake meeting with City of Harare officials. Organised by Dialogue on Shelter Trust – an affiliate of SDI, which is the local uptake lead for Harare – the workshop was also attended by other ACRC city researchers.
The city officials were drawn from housing, finance, health, works, water, human capital and town clerk's departments, to cite some examples. Consistent with the uptake agenda, the workshop sought to introduce the ACRC project, provide updates and establish potential ACRC connections with City of Harare priorities.
A presentation delivered by the uptake team on ACRC's background outlined the shortcomings of sectoral urban development approaches that had necessitated the need for more holistic and, therefore, sustainable strategies to address the myriad challenges faced by African cities. The presentation also explained how ACRC is deploying political settlements analysis to enable a more politically nuanced understanding of the complex urban challenges in most African cities.
ACRC's Harare team is exploring a total of four domains: structural transformation, neighbourhood and district economic development, informal settlements, and land and connectivity.
Further updates in the workshop focused on the preliminary work done so far, including production of city of systems and informal settlement domain mapping papers, which have largely been based on secondary data.
The political settlements and land and connectivity teams shared their progress updates, with the former highlighting how diverse groups of stakeholders with different forms of power were instrumental in shaping how urban services were being accessed in the city. Meanwhile, the land and connectivity update showed how the study had identified conservation and urban resilience, city consolidation, and the notion of an inclusive city as conceptual themes through which to explore the domain.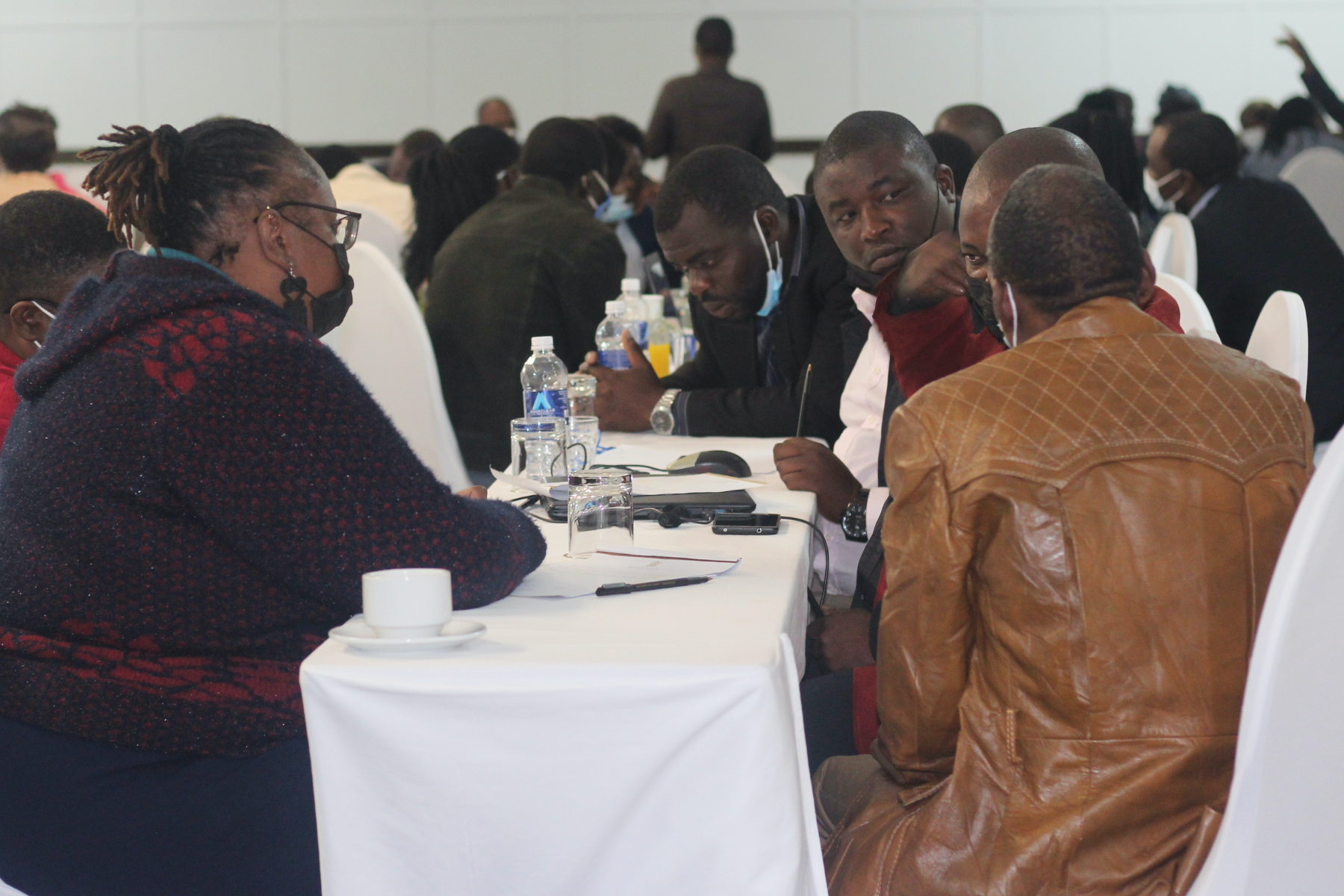 The final session of the engagement focused on linking the ACRC programme with the City of Harare's research, policy and practice-oriented priorities. Groups organised around the city departments were used to draw out city insights and thoughts for connecting ACRC work with the council's development agenda.
Three broad groups were arranged, including two or more related departments – namely planning, social services and the town clerk's department. The following priorities were extracted from the group session:
Understanding off-grid water provision in the capital, specifically borehole-centred research (including coverage, quality and actors).
Impacts of water pollution on water supply in the city (including sources, extent and mitigation).
Decongesting Harare via research on transportation system.
Vulnerability and needs assessment for Harare to better inform development responses (including food security).
Developing a national and a Harare master plan.
Understanding the root causes/drivers of informal settlements in the city.
Understanding the feasibility and sustainability of slum upgrading.
Consolidating lessons from past informal settlement upgrades.
Examining how social services are being provided and accessed in the city vs town-planning standards.
Contribution of the informal sector to the city's economy.
Unlocking infrastructure financing in the city.
Understanding linkages between the city and its dormitory towns.
Integrating cross-cutting issues in urban services delivery.
Contribution of external stakeholders to Harare's food system.
Improving road infrastructure in the city – trafficability, mobility and connectivity.
The uptake engagement concluded by formulating next steps. These were linked to lined-up activities, such as data collection through city key informants and establishing a city focal team for easier coordination.
Note: This article presents the views of the author featured and does not necessarily represent the views of the African Cities Research Consortium as a whole.
The African Cities blog is licensed under Creative Commons Attribution-NonCommercial-NoDerivatives 4.0 International (CC BY-NC-ND 4.0), which means you are welcome to repost this content as long as you provide full credit and a link to this original post.